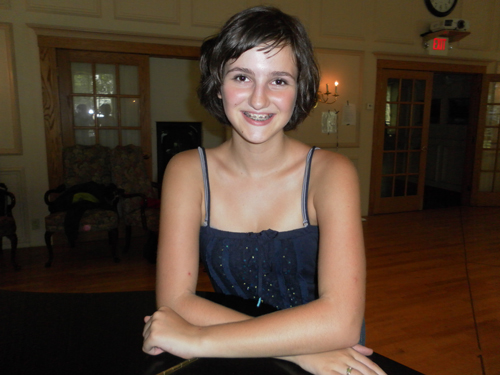 Southborough teenager Monica Canepa will take to the stage this weekend in the Boston Children's Theater production of the this summer's most popular musical comedy "Legally Blonde." Monica will join a cast of students ages 14 through 19 in the performance.
Playing the role of Salesperson in "Legally Blonde," Monica is no stranger to the stage. She has appeared in numerous area productions including "Alice in Wonderland" and "Once on this Island." She also studies voice, dance and acting.
Here's more information on the musical from BCT:
LEGALLY BLONDE is based on the wildly popular film starring Reese Witherspoon as 'Elle Woods.' Elle is a pink-loving effervescent sorority girl who enrolls at Harvard Law School to win back her ex-boyfriend, and gains a lot more in return. Nominated for 7 TonyÒ Awards, LEGALLY BLONDE was written by Heather Hach with music and lyrics by Lawrence O'Keefe and Nell Benjamin. This high energy, leave the theater humming musical is directed by BCT Executive Producer Toby Schine with choreography by Carl Rajotte, Artistic Director of the Palace Theatre in Manchester, NH.

"The energy in this production is infectious," reveals Schine. "With choreography by Carl Rajotte, the Artistic Director of the Palace Theatre in Manchester, NH, the cast is having a blast on stage. It's the perfect musical to showcase the vast musical comedy talents of our students."
"Legally Blonde" will be performed at The Governor's Academy, 1 Elm Street, Byfield, MA (map). Performances are Thursday, August 2 at 8 pm; Saturday, August 4 at 8 pm and Sunday, August 5 at 2 pm. Tickets are $25 and $20 for adults and $15 and $10 for students. For tickets and information, visit www.bostonchildrenstheatre.org.