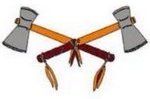 Post-season sports move quickly. So, it's already time for another update.
Algonquin Boys Volleyball bested Worcester Tech 3-0 in the Quarter Finals. The top seed, undefeated team will now host 4th seed Leominster for the Semi-Finals. The athletic department lists that as set for Monday, June 5th at 5:00 pm.
ARHS Lacrosse dominated in yesterday's First Round playoffs. The Girls scored 20-2 against Tantasqua and the Boys 17-6 against East Longmeadow.
The 9th seed Boys face a much tougher hurdle for the Quarter Finals tomorrow night. They'll be playing on top seed Longmeadow's turf at 7:00 pm on Friday, June 2nd.
6th seed Girls Lacrosse heads to Agawam to play the 3rd seed team at 5:00 pm this evening.
This week I posted the wrong info on Boys Rugby's Semi-Finals. That is scheduled for 5:00 pm tonight at Curry College. That's against Milton.
The status of other teams hasn't changed since I posted yesterday. Click here for that story.
Updated (6/2/17 2:04 pm): Algonquin Baseball just tweeted that their Quarter Finals against Nashoba were moved up. That game is now scheduled for Saturday, June 3 at 3:00 pm.