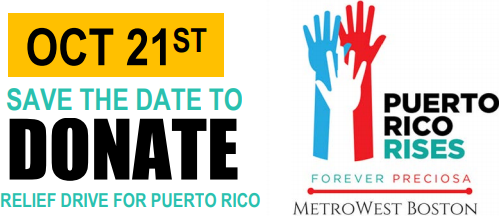 Here is a reminder of what's happening around town this weekend.
The big event is the drive to support Puerto Rico. In case you were concerned that collected items may not make it into the hands of people who need them – co-organizer Lisa Braccio explained to fellow members of the Board of Selectmen this week that the port that Puerto Rico Rises will be delivering to won't have transportation problems (like those reported for San Juan). The organization is working with people who live there who will help with transportation.
Southborough Wicked Local interviewed the other organizer of the event, resident Sharlene Lugo. Lugo is from Puerto Rico and still has family members there. SWL reported:
Millions are still without running water or electricity on the island.

"Their whole lifestyle, their whole routine changed," Lugo said. "They have to get up very, very early in the morning just to get in line to get gas, to get ice and the essentials."

They have to wait in line for two hours to get a limited amount of water at Costo or Sam's Club, the only two stores selling water on the island.

"It's been four weeks since this happened and we still haven't left the emergency crises," [Lugo] said.
You can read more here.
[Note: The highlights don't include ongoing weekly programs. For those listings and more, check the Event Calendar.]
Friday, October 20, 2017
Saturday, October 21, 2017
Sunday, October 22, 2017