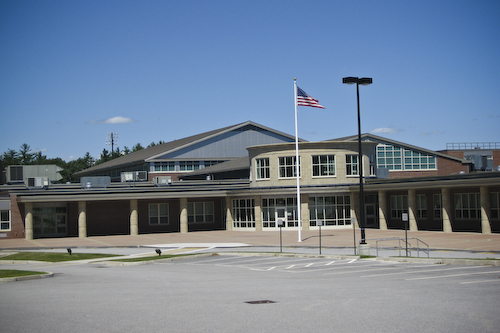 Last week, I shared news on Southborough's MCAS results. I promised to share Algonquin's results later in the week. I'm finally following through.
The good news is that the 10th graders ranked well compared to the state. And testing was fairly on par with last year. The bad news is that most won't like how we ranked compared to some other schools.
Most of the scoring for Algonquin was very, very close with higher ranked schools*. So, these rankings probably don't mean much. But they certainly don't give ARHS bragging rights vs neighbors.
Some were a bit surprising. The one that shocked me the most was Assabet Valley Regional Technical High School's outranking of Algonquin on English Language Arts testing.
Here are stats I pulled. First, I took a look at ARHS' 10th graders' performance vs the state and compared to past years.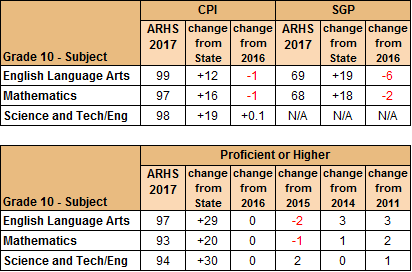 (Scroll down for more detail on this year's ARHS scores by Advanced, Proficient, etc.)
Next, I looked at rankings vs. neighboring schools that performed higher.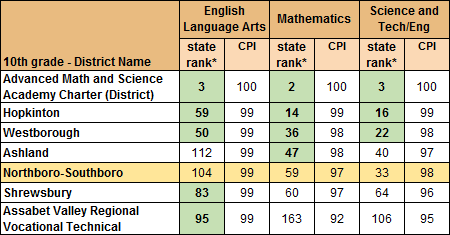 For a better look at results for our 10th grader broken out by scoring groups, click on the table below.
It's probably important to keep in mind that there is a reason that the state launched a new version of MCAS for the younger grades. 10th graders were given the old, standard test. For more on changes to testing, read my post from last week.
For more data, or to run your own sorts, visit Mass DOE's results database.
*Ranking methodology: To rank schools, I sorted by highest CPI score, followed by combined Advanced & Proficient %, followed by Advanced %.
CPI = Composite performance index (CPI)
Massachusetts uses the 100-point Composite Performance Index (CPI) to measure progress towards the goal of narrowing proficiency gaps. The CPI assigns 100, 75, 50, 25, or 0 points to each student participating in PARCC, MCAS, and MCAS Alternate Assessment (MCAS-Alt) tests based on how close they came to scoring Proficient or Advanced. (For example, all students scoring Proficient or Advanced are assigned 100 CPI points; students with very low assessment scores are assigned 0 CPI points.) The CPI for a student group is calculated by dividing the total number of points by the number of students in the group. The result is a number between 0 and 100.
SGP = Student Growth Percentiles