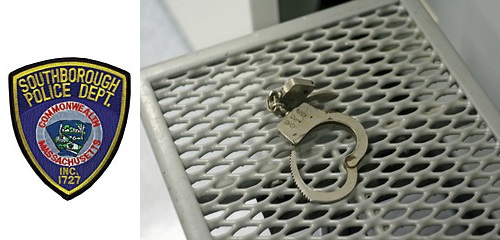 Southborough Police announced that an alert officer on traffic enforcement duty arrested a passenger wanted for accusations of "Assault to Murder" and other charges.
On, January 11, 2018, at 1:25 p.m., Officer Aaron Richardson was stationed on Pine Hill Road conducting traffic enforcement. He observed a white Honda Civic with two occupants travel past his position. After a subsequent traffic stop and investigation, the passenger in the car was identified as [a Framingham man].

Dispatch confirmed an active warrant for [the accused] issued out of Milford District for Assault to Murder, Firearm c265 S18 (b), Kidnapping, Firearm, c265 S26, Assault W/Dangerous Weapon c265 S15B (b), and Vandalize Property c266 S126A. The offenses are related to an incident in Bellingham on December 22, 2017. [The suspect] has a long criminal history of violent offenses and drug charges.

He was transported to Westborough District Court after failing to make bail set at $15,000 by Commissioner Karen Farragher.