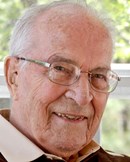 William A. Hartwig, age 101, passed away June 2, 2018 at Brooksby Village in Peabody, MA, with his daughter Judith Gustin at his side.
William was born February 27, 1917 in New York City, the son of Otto and Elsa Hartwig. He grew up in New York before attending Long Island University and then transferring to the University of Alabama where he met his future wife Thelma Rudin. William and Thelma were married more than 62 years and lived for many years in Southboro, MA, where they raised daughters Judith and Barbara.
He had a distinguished career with Alcoa as a metallurgical engineer spanning more than 30 years. Among his interest were woodworking, especially making fine furniture for which he had natural talent and persistence and which he continued to pursue into his 98th year.
He is survived by his daughter, Judith Gustin and her husband Carl; grandchildren William Russ Wakelin and his wife Nicole, of Nashua, NH; John Wakelin and his wife Susan of Bedford, NH; Christine Gustin Aghassi and her husband Jeff of Los Angeles, California, as well as five great-grandchildren. He was predeceased by his wife Thelma and his daughter Barbara.
Funeral arrangements will be private and are made through the Greely Funeral Home, 212 Washington St. Gloucester, MA. Online condolences may be given at: www.greelyfuneralhome.com.