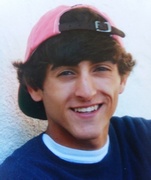 [Editor's Note: Unfortunately, I missed this notice in time to share prior to the services.]
Ethan W. Miller, 27, of Southborough died at his home on Wednesday, July 11, 2018 surrounded by his family. Ethan was bravely battling severe anxiety and depression for the past several years.
He was the beloved son of Wayne H. and Cheryl A. (Kalajian) Miller of Southborough.
Ethan was a 2009 graduate of Algonquin Regional High School in Northborough where he was a standout student and athlete. He was on the varsity golf and tennis teams throughout high school and enjoyed playing basketball and soccer. Ethan graduated with honors in 2013 from Bryant University of Smithfield, RI, where he earned his bachelor's degree in Business and Management Consulting, along with minors in law and environmental sciences.
He was a kind soul with a big heart and was presently self-employed. He enjoyed his free time at his family's beach house in Duxbury fishing, playing horseshoes and just hanging out with friends. He was loved by all who knew him.
In addition to his parents he is survived by his sister, Corrie Miller of Southborough; his maternal grandmother, Helen Kalajian of Watertown; several aunts, uncles and cousins; also his 3 golden retrievers, Daisy, Augustus, and Ginger.
Visiting hours will be held on Sunday, July 15, from 2 to 5 pm at the Morris Funeral Home, 40 Main Street, Southborough.
A funeral service [was to] be held on Monday, July 16, at 10 am at St Mark's Episcopal Church, 27 Main Street, Southborough, burial will follow in Southborough Rural Cemetery.
In lieu of flowers, memorial contributions may be sent in his memory to St Jude Children's Hospital, 501 St Jude Place, Memphis, TN, 38105, stjude.org
To leave words of condolence to the family, please visit www.morrisfuneralparlor.com.