The Southborough Education Foundation is asking the community to buy lunch/dinner from Bertucci's in Westborough this Thursday. On December 20th, 25% of participant's bill will be donated to the non-profit.
To qualify, just mention the fundraiser or show the flyer. (This is only at the Westborough location.) The deal applies to Dine-in, Carryout or Bertucci's-own Delivery.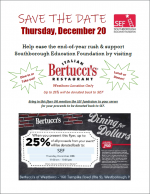 If you are ordering online, please select "Pay at Restaurant" and present the flyer or mention the fundraiser when picking up your order.
Last week, I posted about SEF's Red Apple gift program. (Reminder, this Tuesday's the deadline for signing up for holiday gifts.) The story included SEF's reminder of some of the grants that "provide our children innovative learning initiatives outside of the standard curriculum."
Those were only a sample. You can click here to read about all the grants that were awarded last spring for this school year. To learn more about the non-profit, click here.