[The following information was provided by My Southborough sponsor Expressions Art Bar.]
Laugh, sip and create at Expressions Art Bar, a new paint and sip studio, opening in Southborough in April 2016.
Expressions will feature a spacious studio for art parties for up to 48 people. There is a beautiful wine and beer bar where guests can purchase beverages or pre-packaged snacks.
The studio is located in the Southborough Town Center, just off of Routes 9 and 85, is ideal for a solo escape, date nights, group outings, showers, ladies night, corporate events, and fundraisers.
"Painting & Sipping" is the latest craze that is booming in the South, and growing in New England. Owner Mary Simmons, a Southborough resident, is a certified fine arts teacher who has successfully run mobile art parties for the past three years.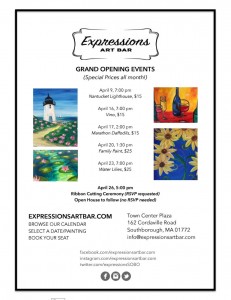 Simmons' goal is to provide the local community with a place to escape, disconnect from the daily grind, and have a fun social night out while expressing their inner artist.
Her motto is: "No artistic experience needed, just fun people." Guests will often be surprised at their "masterpiece," and walk away feeling good.
Simmons said, "Partygoers can come in enjoy a class of wine, laugh with friends, listen to tunes, and walk away with a fun piece of art to bring home."
Simmons added, "Expressions is meant for anyone from the novice who is terrified of art, to the social butterfly, to the creative professional. It is art as entertainment."
The majority of these two-to-three hour events will take place on weeknights and weekends, with the occasional daytime party.
Youth offerings at Expressions will include: family paint, Scout badges, kids after school, teen nights, vacation classes, and birthdays or private parties for kids/teens.
In addition to the popular guided step-by-step canvas painting parties, there will be special events like Champagne & Crafts, Zentangle Drawing, ASL Nights, and other fun parties.
A ribbon cutting ceremony will be held on April 26 at 5:00 pm. Special events and special prices offered during the opening month of April include discounted painting parties, Marathon Daffodils painting during spring break, a Family Paint Party, and a fundraiser for a local organization. (Click flyer above for more info.)
Mary and her husband Justin decided to open the independent small business after the birth of their second child. "There is something special about the local family business. We want to connect with the community and create this happy place for locals." Justin, a property accountant in Waltham, is knowledgeable about the business side and a great advocate supporting Mary's dream.
To sign up for an event or learn more about Expressions, visit expressionsartbar.com, or email info@expressionsartbar.com.