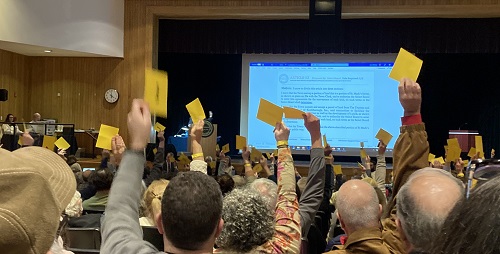 2023 Annual Town Meeting was completed in one day, but it was a long one.
In the afternoon, the hall was packed with voters, with overflow in the cafeteria. Many were there to support Algonquin's athletic facilities upgrades.
First, they had to sit through debates on the Select Board's land swap with St. Mark's School to complete the street relocation and park project. Ultimately, the board got the over 2/3 support it needed.
After those Articles were resolved, the Gonkplex crowd got the votes they needed to support a CPA project and the regional school's authority to borrow close to $8M. (Although, Northborough voters still have to greenlight the shared bonding.) Read the full article →