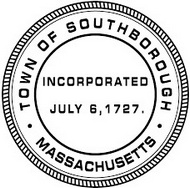 Yesterday, the Town of Southborough shared some unfortunate news. Our new Town Planner is hitting the road.
Jyothi Grama is relocating. Her husband was recruited by an NYC firm. It's something she tells me was unexpected. She loves her job, but its an opportunity they can't pass up.
That means that the Planning Board has to head back to the hiring table.
The board took about 6 months to fill the post after former Town Planner left in January. It took multiple rounds of applications and candidates for them to find the right fit. They hired Grama in June.
Before that, it took around four months to hire Grama's predecessor Jennifer Burney in 2013.
The good news is, this time there seems to be plenty of notice. Grama hopes that the transition will go smoothly. She tells me that she plans to do all she can to make that happen.
The Town has already posted the job description to be filled. (For details on the opening, click here.) Meanwhile, Grama hasn't given an official end date. Instead, she asked to be out by the end of the year.
Hopefully, this means there won't be a repeat of issues the Planning Department had in past years.  [click to keep reading…]
{ 0 comments }