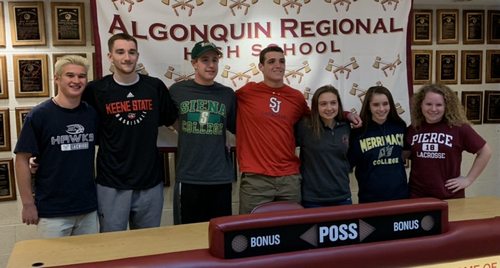 There's a surprising amount of sports news to share this week: T-Hawks Football updates, ARHS Tournament Results; and National Letters of Intent for Algonquin and Southborough athletes.
Topping the list is time sensitive news – an early start to Thanksgiving Football.
With low temps forecast for Thursday morning, the high schools are moving up the traditional T-Hawks v Rangers game to Wednesday night at 5:00 pm. Tickets are available in the ARHS athletic office until 11:30 am tomorrow for $5 each. $10/ticket at the game.
Speaking of ARHS Football, the Athletic department proudly tweeted about the team spirit that made it possible for Freshmen and JV teams to play their final games this weekend:
Annual Freshman/JV football game vs. Westboro (ppd last night due to weather) recognition goes to the entire football program. They spent 5 hours shoveling the entire stadium field so they could get the games in today. That's leadership and dedication! pic.twitter.com/psmIujFmel

— ARHS Athletics (@ARHSAthletics) November 17, 2018
Over the weekend, the school finished state tournaments. But it looks like one team may be headed to Dallas soon. ARHS Athletics tweeted:
The performance cheer team placed 11th at States and received the first bid to nationals in program history!
Cross Country reached the end of its road at All States. Tess Reyes outpaced 170 other runners to come in 8th in the Girls 5K on Sunday. The Boys team came in 19th place overall and Girls 20th.
Thanks to emails and local news, I can share that several athletes with links to Southborough signed National Letters of Intent to play college sports last week.
Seven Algonquin students gathered to announce their choices. Click on the thumbnail below right for a better look:
Callen Willwerth – St. Anslem's College, Lacrosse
Nick Redden – Keene State College, Football
Jack Tobin – Siena College, Golf
Ric Carreras – St. John's University, Lacrosse
Danielle Brazeau – Franklin Pierce University, Lacrosse
Sophie Scearbo – Merrimack College, Lacrosse
Erin Blake – Franklin Pierce University, Lacrosse
Of those, Westborough Wicked Local zoomed in on Carreras and his choice to play Lacrosse at St. John's next year: [click to keep reading…]
{ 0 comments }