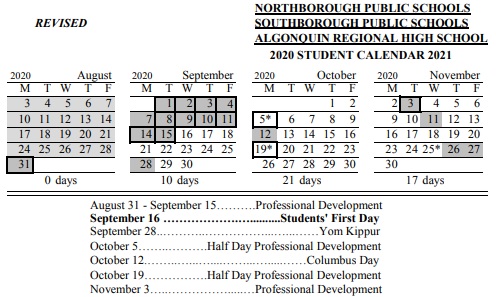 On Wednesday night, the Combined School Committees agreed to adopt the state's option for adding more Professional Development days to the calendar. The first day of school for students is moving from September 2nd to the 16th.
The School Committees approved the Reopening Plans and the new calendar with the caveat that there may be changes made if necessary. (You can watch their discussions in Wednesday's meeting here.)
There were multiple exchanges and comments about working parents of young students worried about daycare/supervision for remote learning days under a Hybrid Model. One option suggested was having kids dropped off at school tents or gyms for supervised remote learning outside the classrooms. Superintendent Gregory Martineau didn't promise anything, but also didn't rule out supporting the needs in some way.
Martineau said the focus has been on getting the Reopening Plans set. Once that is done and a starting learning model is chosen, they will reach out to organizations that support the schools to see if there are ways they can help them support parents. He referred to SOS (Southborough Organization for Schools) and NEF (Northborough Education Foundation) as examples.
The new survey released by the district includes asking whether parents would need help finding daycare or if they are "willing to support other families in finding childcare" and how. Parents are also again asked to let the district know their model preferences, whether or not they would participate in in-person learning, etc.
The district is asking parents to again quickly respond to the survey. This one is due tomorrow, Sunday, August 9th, by 4:30 pm.
Results will be used to inform an important vote this week. In Friday evening's update to parents, Martineau wrote:
On Wednesday, August 12, 2020, the Northborough, Southborough, and Northborough-Southborough Regional School Committees will discuss reopening plans and vote on a reopening strategy.
As for the school delay, it adds 10 Professional Development days to the calendar. School Committee members agreed that giving time for teachers and the administration to work through how to make new learning models work was important. There was a preference noted for quality over quantity of teaching days. [click to keep reading…]
{ 0 comments }