As I posted on Monday, artists will be installing their exhibits in this year's Art on the Trails this weekend. In lieu of an opening ceremony, the public is invited to come out and watch the action. (Though, we are asked to maintain social distance.)
The invitation seems fitting given this year's theme "Rising Up":
"OUR GREATEST GLORY IS NOT IN NEVER FAILING, BUT RISING UP EVERY TIME WE FAIL." RALPH WALDO EMERSON
As we move through our lives, in our communities, in our world, we are challenged. How do we face those challenges and move forward with courage? Artists responding to this theme are asked to consider this question and respond with proposals that answer the question or demonstrate the rising of the human spirit.
Organizers have posted a schedule of 14 of the 15 artists this weekend:
Saturday, June 6: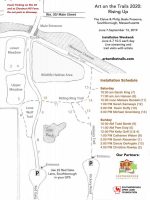 10:00 am – Sara King (of Bridgewater)
11:00 am – Jen Hansen (of Southborough)
12:00 pm – Melissa Randall (of Lancaster, MA)
1:00 pm – Sarah Samways (of Pawtucket, RI)
3:00 pm – Kevin Duffy (of Arlington)
4:00 pm – Michael Greenberg (of Hopkinton)
Sunday, June 7:
10:00 am – Todd Bartell (of Watertown)
11:00 am – Pamela Esty (of Southborough)
12:00 pm – Kelly Goff (of Norton)
1:00 pm – Catherine Weber (of Southborough)
2:00 pm – Sarah Alexander (of Hopedale)
3:00 pm – Darcie DeAngelo (of Lowell)
4:00 pm – Christine Rowley (of Somerville)
By process of elimination, it appears the unscheduled artist is Cecelia Lamancusa (of Ashton, Maryland).
If you are visiting in person, click the map above right to see the locations on the trail. You can also enjoy the installation remotely via live streaming on artonthetrails.com.
Once installed, the pieces will remain on exhibit through September 22th for the public to enjoy. The 2020 exhibition is made possible through the support of Southborough Open Land Foundation and the Southborough Community Fund. It is juried by Hilary Zelson, artist and Cambridge Arts Public Art Administrator.
Below are excerpts that I'm sharing again from the original announcement: [click to keep reading…]
{ 0 comments }