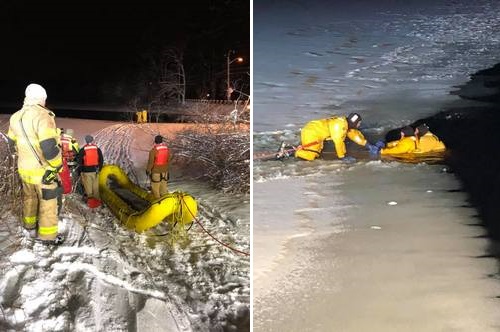 Although I have posted news from Southborough Police over the past couple of months, I haven't shared the logs since late December. So, it's time for an update on what our public safety officials have been up to.
This week, the Southborough Fire Department posted photos from ice training conducted on Monday night. The SFD reminded the public that ice is "never safe" and they'd rather not have to put the training into real action.
The SPD shared the post, telling the public that both departments constantly train.
Over 50 days, the SPD logged 11 arrests, including 8 related to OUIs and two related to drug possession/intent to distribute. Another 11 "Criminal Applications" were filed. 14 reports of larceny, forgery, and/or fraud were filed. But no new burglaries or break-ins were reported.
Police also responded to 19 accidents, some involving injuries.
Not included in the public logs were an unsuccessful car pursuit of an armed robbery suspect and breaking up of a party with juveniles (allegedly involving alcohol and marijuana) that ended in pressed charges. The latter prompted the department to share the reminder below about the legal responsibilities of "social hosts" and consequences for allowing underage drinking:
Now here are the SPD logs from December 29th – last Saturday: [click to keep reading…]
{ 0 comments }