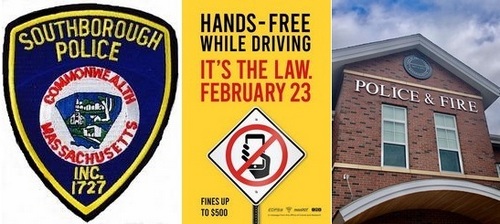 It's almost a month since I last posted logs from the Southborough Police Department. The good news is the logs didn't include reports of any new burglaries. Though, officers did log five reports of possible larcenies or frauds.
Since late January four out-of-town drivers were arrested in town (three for alleged drunk driving). Ten other drivers had criminal citations filed against them.
Speaking of driving offenses, the SPD posted a reminder that the state's new Hands Free law goes into effect on Sunday. Though, from the announcement, it sounds like there will be about a month of just warnings before fines are assessed:
Hands-Free While Driving – It's the Law starting February 23rd, 2020.
After March 31, police will be able to start citing drivers for these violations.
We just wanted to make sure that the members of our community are fully aware of this new law, and what to expect in the weeks to come.

Overview- Massachusetts law prohibits operators of motor vehicles and bicycles from using any electronic device, including mobile telephones, unless the device is used in hands-free mode.
Penalty for violating the hands-free law:
1st offense – $100 fine.
2nd offense – $250 fine, plus mandatory completion of a distracted driving educational program.
3rd and subsequent offenses – $500 fine, plus insurance surcharge and mandatory completion of distracted driving educational program.

*We encourage you to "share" this information with friends and family. Thank you.
I'm sure public safety officials hope the law will lessen the number of accidents on the road. In less then 30 days, the SPD logged twenty accidents in Southborough. One of those incidents, an accident at River Street last Thursday, caused commuting headaches. It was another case of a truck vs bridge.
The MBTA tweeted that a vehicle hitting a bridge in Southborough would cause a 10 minute delay on the commuter rail line. A Framingham Source story (since disappeared) showed a photo of what was clearly the River Street bridge.

I checked in with resident John Kendall who publicly complained over ten years ago about the frequency of trucks ignoring the height warnings and hitting the bridge. He was able to share a photo his wife took of the most recent accident (right). He also noted:
Some of the problems stem from the total lack of paying attention. I do think that there should be more warning signs, but speaking with an engineer from the MBTA last year at an accident there, sometimes it doesn't matter how many signs are up warning of the low bridge height. Some of this can be attributed to the common navigation apps such as Google maps. They don't show low bridges. There are GPS navigation systems available for commercial trucking that list hazards, but evidently, not all drivers have this. I think the towns of Southborough and Hopkinton need to press this issue with state officials. Once a truck hits the bridge, it ties up traffic until everything is cleaned up, and disrupts the railroad as engineers have to inspect the bridge before trains can resume passing through and going back to normal speeds.
On a happier note, on Saturday, the SPD shared news on its latest graduate from the academy:
Congratulations to Officer Austin Chapski on his graduation from the 10th ROC Randolph Regional Police Academy last night!

Officer Chapski was hired as a Full-time Police Officer for the Southborough Police Department back in April of 2019. He was previously a full-time dispatcher for the department (hired in 2018); and has a Bachelors Degree in Criminal Justice from Worcester State University.

Austin will begin the Field Training Program next week; working a variety of different shifts and handling a variety of different calls.

Austin joins his brother, Cameron Chapski, in protecting and serving the Southborough Community.

The Facebook page also shared that the public safety complex now sports the Town seal and lettering confirming it is the Police & Fire station.
Below are the latest logs from the Southborough Police Department.*
(Note: Not included in the logs is the January incident police alerted the public about, when a male driver allegedly exposed himself to a girl after school.)
Tuesday, January 21, 2020 [click to keep reading…]
{ 0 comments }