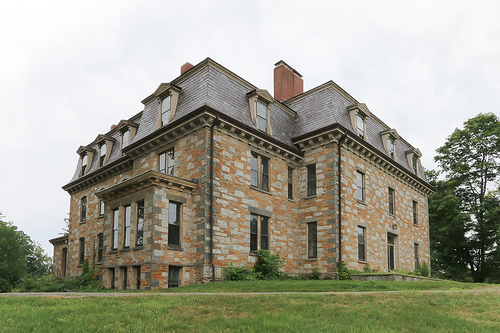 Last week, developer Bob Moss presented an ANR application to tear down the house and replace it with four new homes. When the sale to the developer fell through, demonstrators were relieved. But this morning, they learned that the application is still active.
Demolition of the historic home drew public criticism and a protest led by teens Bridget Brady, Jennifer Fox and friends. The girls protested outside the home for about 12 hours per day. They coordinated an online campaign and petition. Their efforts attracted attention from local media and are considered partially responsible for stopping the sale of the home to Moss.
This morning, the Planning Board recognized her for their efforts to applause from the audience. Planning Board member Kathy Bartolini was enthusiastic about the "all woman picket team". She encouraged the girls to consider a career in government or at least volunteer positions as they "mature".
Following up on the ANR, Town Planner Jennifer Burney read a letter from the homeowners. Jon Delli Priscoli and his wife Jennifer wished to proceed with the ANR, to "protect their own interests".
Chair Don Morris explained what the ANR means to those in attendance. He likened it to a teacher telling a student they can bypass the final exam if they do all their homework. But first, they have to show that they completed the homework.
Based on the application date of July 9th, the board had until this coming Tuesday to deny or approve the application. After that, it would be considered "constructively approved."
Their attorney claimed that they would hold off on use of the approved plans until after a discussion with the town. He stated that they are interested in working to preserve the home. However, saving the estate would require "cooperation and participation by the community and its elected officials".
An effort by the town is in process. [click to keep reading…]
{ 0 comments }