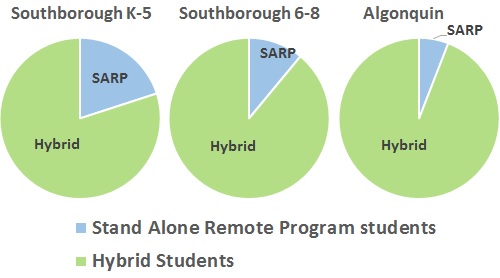 The Board of Selectmen is authorizing an official look at whether the Town should consider closing a Southborough K-8 school in coming years. (More on that below.)
That look will feature a long term view of enrollment vs capacity. Of course these days, excess building capacity is a boon as school districts try to maximize safe distances between students. So the topic prompted me to wonder how enrollment shook out this year as parents grappled with hard choices.
I reached out to Superintendent Gregory Martineau for a breakdown of remote vs hybrid students, plus figures for drop-off over the summer.
Remote vs Hybrid
Across the board, the large majority of families signed kids up for the Hybrid Model with the planned, phased, in-person attendance. According to Martineau only 18% of Southborough families selected the Stand Alone Remote Program for the launch of the school year.
It appears that the percentage of families who opted for SARP varied by school level. The percent enrolled in SARP (vs Hybrid) are:
20% of Southborough Elementary (K-5)
11% of Trottier Middle School (6-8)
5.9% of Algonquin Regional High School (that's Northborough and Southborough combined)
So, how many made a third choice – leaving the district?
In June, the K-8 schools were predicting 1,163 students to be enrolled in Southborough K-8 this September. The actual current figure is 1,179. K-12 student enrollments dropped by 10 over the summer, from the projected 1,407 to 1,397.
The differences don't seem too large and I can't tell you how many moved vs. went to a private school or other institution or chose to pursue home schooling. But Martineau acknowledged it was higher than last year's summer drop off.*
But what about overall trends?
Enrollment vs Capacity
Back in 2012, resident Al Hamilton publicly called for closing Woodward School. He cited enrollment projections that indicated a large drop in student enrollments by 2020. Based on the trends, he pitched converting Woodward for other municipal purposes and selling three other Town owned buildings. One of those three has been sold off – Fayville Hall. But the Town is still using the other two the South Union School (which he called a "money pit") and Cordaville Hall (home of the Senior Center).
The idea didn't pass muster with the School Committee back then. Now, eight years later, the Town is revisiting the concept of reducing the number of school buildings. This time, Town officials will partner with the school committee in the assessment.
It turns out, the 2012 enrollment projections were significantly off. Hamilton had shared that the student population was expected to drop by 35-40%. Enrollment did drop significantly, but only by 17% from figures shown for the 2011-12 school year.
Still, according to Hamilton's assessment, we were already overdue for downsizing years ago. In his presentation, when enrollment was higher than it is now, he wrote:
We should already be in a 3 school system

We operated quality school system in a 3 school footprint with more students than we have now in the early 2000's
Our 3 school (excluding Woodard) classroom capacity is greater than it was in early 2000's due to the Trottier addition

The big question is not 3 vs 4 but 2 vs 3 schools.
In meetings this year, the Advisory Committee and Capital Planning Committee have discussed assessing the possibility as an important step in long term fiscal planning.
Recently, the Capital Planning Committee urged the Board of Selectmen to looking into the possibility of disposing of the South Union Building. Not coincidentally, Selectmen are scheduled to approve a charge for a new ad-hoc subcommittee to research school capacity vs student projections. [click to keep reading…]
{ 0 comments }