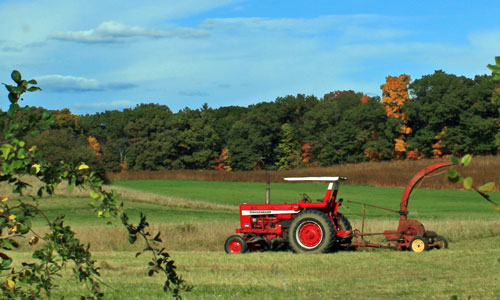 Chestnut Hill Farm's new manager is keeping her promise to run Meet the Farmer events the first Saturday of the month this summer.
The first Saturday of this month happens to be the 4th. So, if you're looking for something to do on Independence Day, swing by the farm.
This Saturday from 10:00 – 2:00 pm, they'll be holding two activities:
Children's craft: Birdhouse activity
We have some beautiful birdhouse gourds donated by Whit Beals that are ready to decorate into a beautiful birdhouse for you to take home.
Birds, Butterflies and Milkweed, OH MY!
Help us map where some of the key important species on the farm are living right now.

We will take 2 (1st one at 11am and the 2nd at 1pm) walks up along the main farm road and try to identify where the bobolinks are nesting, the Checkerspot butterflies are feeding and the significant milkweed patches are.

We will pass by the goat flock and say hello to them on our way by so you can see how much the babies have grown!
The farmer meet and greet is also a good way to learn more about the farm's new CSA program (Community Supported Agriculture). Shares are still available.  [click to keep reading…]
{ 0 comments }