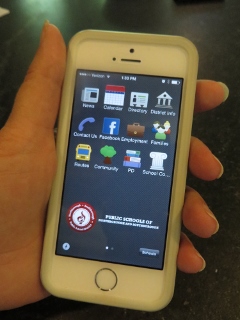 Last week, the district released its back to school newletters. But I'm hazarding a guess that most of you didn't take time to read the whole thing.
So, here's some announcements you may have missed from Jean Tower, Director of Technology.
There's a free new mobile app offering "one-touch access" to directories, news calendars, and more.
To make it even easier for you to stay connected and informed, we now have a mobile (free) app where you can get your school info on the go, and access our existing website on your iOS phone or iPod or your Android device. These are native apps, customized and unique to our schools and district. The design is quite intuitive and users have access to all features of our website. We hope that you will download the free app so that you have a quick short-cut on your phone. You can even click phone numbers in the contact list and call us directly from the app. Other features include one-touch access to school and staff directories, news, calendars and much more.

To get the app for your iOS device, visit: http://bit.ly/nsboro-itunes

To download the app for your Android device, visit: http://bit.ly/nsboro-gplay
(Tips: I found the app directly through my phone's app store by searching for nsboro. Once in the app, I discovered that some school specific information is only available by selecting that school. So, if you have kids in more than one school – It seems you are better off choosing and then switching school views, than selecting all public schools.)
Technology Plan Update. For those of you who want to have a say in how technology is used in our schools, stay tuned for an important committee invitation:
This fall we will be convening a technology planning committee to include parents, community members, and staff, and we will also engage students to consult with the group, as appropriate. We will soon be asking for volunteers to serve on this broad-based committee. [click to keep reading…]
{ 0 comments }