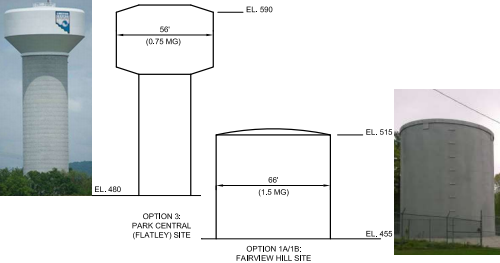 When Public Works Planning Board chair presented the findings on the Water Tank report, he made clear that the board believed Fairview Hill is the best site for a new water tower. But with public pressure to pursue Park Central as an alternative site, he left the ball in selectmen's court.
At the July 19th Board of Selectmen Meeting, PWPB Chair Jamie Hellen said the report and his board both found:
the Fairview site is by far the most advantageous site to solve the community's problems.
But given public push back to consider Park Central, Hellen said majority of board felt that "it should be offered to selectmen to look at that site." Hellen clarified that it wasn't in his board's knowledge base or purview to decide if a site at Park Central could be acquired swiftly and cheaply.*
Public Works Superintendent Karen Galligan said that building a new water tower likely won't be needed for at least another 5-10 years. But they wanted to raise the option with selectmen so they could consider it before a tank is needed.
During public comment, Fairview abutter Mike Horgan pushed that there was a question as to how much better Fairview is. He followed that Park Central may offer an opportunity that is in the end the best option for the Town.
Hellen recapped that the PWPB and consultant had discussions with about two dozen residents from the Fairview Hill neighborhood who showed up to each meeting on the topic. He said they were well organized in opposing the project. But he felt the board's responsibility was to the welfare of the entire Town.
The chair said that the Fairview site was the best from all aspects including cost and sightline. He explained that Fairview Hill abutters were concerned about looking at a tower from their properties. But he countered that an alternate at Park Central would be seen "from all of Metrowest".**
Another abutter, Ravi Mynampaty, told selectmen that he disagreed with the report's methodology for deciding which site was best. Mynampaty claimed there were flaws in the rating system used. [click to keep reading…]
{ 0 comments }