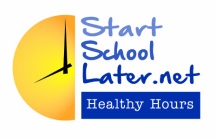 Last winter, some concerned parents began a movement to push Algonquin's start time later.
Volunteers studied and presented to the APTO on the issue, sought administration suport and even began a Massachusetts Chapter for the national movement "Start School Later".
At issue is the many problems proven related to lack of teen sleep. Supporting the cause are claims that scientific studies show teens are biologically wired to stay up late and sleep late.
This month the combined school committees for the district was slated for forming a study group on the issue. According to Southborough Wicked Local, the committees supported the effort.
The local movement was focused on the high school. ARHS is in the 40% of schools with start times before 8:00 am.
But a study group will also look at lower grades and consider the "ripple effect" caused by changes to the bus schedule.
Superintendent Christine Johnson also plans to look into solutions beyond just delaying the school start.
And the district won't be alone. Johnson has recruited other superintendents to explore the issue.
SWL reports:  [click to keep reading…]
{ 0 comments }