Eric Austvold was standing in his Stockwell Lane yard on Sunday afternoon talking to his neighbors and surveying the damage from Tropical Storm Irene. A neighbor pointed out a nearby oak tree, and Eric took a few steps to the side to get a better look.
It's a good thing he did. Moments later the 60-foot tree came crashing down, landing right where he had been standing.
"My neighbor said to me from inside her front door she thought that tree looked like trouble," Eric said. "As she said it, I said 'What tree?' took about 5 or 10 steps forward, and the tree fell right behind me, right where I was standing."
Here's a photo of Eric standing next to the fallen tree.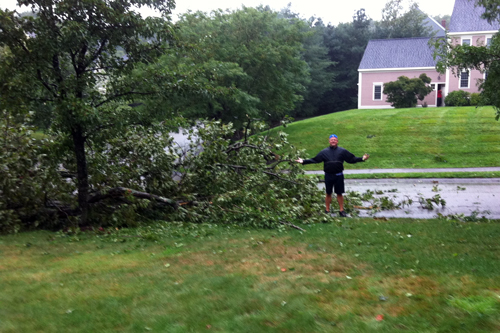 And another shot of the tree, roots and all.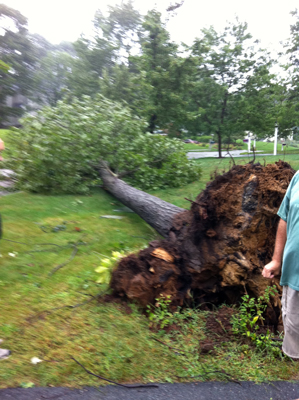 Eric admitted the close call with the tree was a bit scary, but said it didn't keep him from making the most of the day. As the light faded and the wind continued to rage, Eric along with friends and neighbors held an impromptu Irene cocktail party, featuring what else but Hurricanes and Dark and Stormy's.