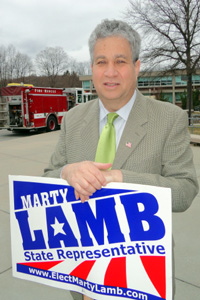 For the past couple of months, Republican Marty Lamb has been campaigning to represent the 8th Middlesex District at the statehouse, but he hasn't officially announced his candidacy yet. That's expected to change at an event tomorrow night in Southborough.
In a media advisory, Lamb's representatives said he would announce "whether or not he will run" at Owen O'Leary's Restaurant on Tuesday evening, but posts on his Facebook page calling the event a "kick-off" suggest his decision is to run.
Lamb will challenge Democratic incumbent Carolyn Dykema to represent the 8th Middlesex, which includes all of Southborough in addition to Hopkinton, Holliston, and part of Westborough.
In 2010, Lamb unsuccessfully challenged Jim McGovern to represent Southborough, among other towns, in the US Congress.
Tomorrow night's campaign event runs from 7:00 to 9:00 pm. Tickets are $35 per person or $50 per couple and can be purchased at the door or by calling 508-429-3666.
(Photo: Marty Lamb campaigning in Westborough last week, contributed photo)