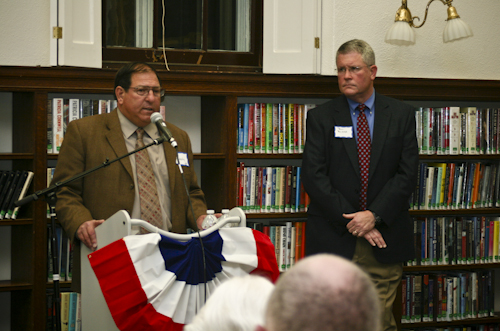 It was a pretty mellow evening at the Southborough Library last night as candidates for town elections introduced themselves to voters at the annual Candidates' Night. No big drama, no real snark, just candidates asking for a vote.
Improved communicaiton was a theme of the night, with most candidates saying the town faces communication problems of one sort of another. Gerald Capra, who is running unopposed for a seat on the K-8 School Committee, and Leo Bartolini, Jr. who is vying for a seat on the Board of Selectmen, both pointed to recent communication breakdowns between the School Committee and other town boards. Andrew Mills and Sam Stivers, who are competing for a seat on the Planning Board, spoke to communication issues among boards involved in the permitting process.
The candidates for Board of Selectmen – Bartolini and incumbent Bill Boland – differed on their opinions of the proposed town manager legislation, which failed by a slim margin at Town Meeting last month. Bartolini, who was a member of the committee that drafted the legislation and who submitted a minority report in opposition to the proposal, told voters he supports a five member Board of Selectmen, but felt the town would give up too much control if it had a town manager.
Boland said he supported the proposal despite advice that it wasn't a smart move politically. "I'm told a lot of people might not be able to support me any longer because of my position on that," he said. "My goal is always to make a decision that is in the best interest of the town."
The only tense moment at last night's forum came when resident Chris Robbins, founder of the Southborough Economic Development Team, challenged Planning Board hopeful Sam Stivers on allegations that he mistreated applicants before the Zoning Board of Appeals during his term as chairman. They're allegations that led selectmen to not renew Stivers' term on the board last June.
"The data does not support those allegations. I'm prepared to stand on my record," Stivers responded calmly. "We did a lot of good projects."
The Metrowest Daily News has a nice recap of the discussion with the two candidates for selectman, so I'll point you there for more details. Town elections are Monday, May 14. A full list of candidates is available in this post.
For those of you who were at the forum last night, what did you think? Did the discussion clarify your opinions of the candidates? Are there questions you wanted to see asked that weren't? Share your thoughts in the comments.