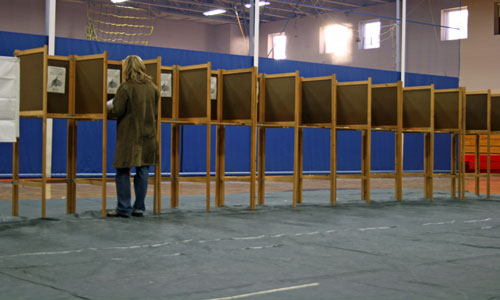 Have you heard? There's an election on Tuesday. Polls in Southborough (and everywhere else) will be open from 7:00 am to 8:00 pm. Here's some info to help you get out the vote.
Where to vote
Southborough has three polling stations, one in each precinct. I've listed the locations below. If you don't know which precinct you're in, head to the Secretary of State's website to find out (www.wheredoivotema.com). Also remember that precinct boundaries shifted a bit last year, so some of you who were in Precinct 1 are now in Precinct 2. Read this post for more information.
Here's where to vote in Southborough:
Precinct 1: Woodward Elementary School, 28 Cordaville Rd. (map)
Precinct 2: Trottier Middle School, 49 Parkerville Rd. (map)
Precinct 3: Finn School, 60 Richards Rd. (map)
Who (and what) is on the ballot
Here are some resources to check out if you're doing any last-minute cramming to figure out who you're going to vote for and what you think of the ballot measures.
Campaign 2010 – Boston.com
Info on the ballot questions (via MA Elections Division)
After last year's redistricting, the ballot is now the same for all Southborough Precincts. Here are all the names and races you find when you get to the polls tomorrow.
President and Vice President
Johnson and Gray, Libertarian
Obama and Biden, Democrat
Romney and Ryan, Republican
Stein and Honkala, Green-Rainbow
Senator in Congress
Scott P. Brown, Candidate for Re-Election, Republican
Elizabeth A. Warren, Democrat
Representative in Congress – Fifth District
Edward J. Markey, Candidate for Re-Election, Democrat
Tom Tierney, Republican
Councillor – Third District
Marilyn M. Petitto Devaney, Candidate for Re-Election, Democrat
Thomas Sheff, Unenrolled
Senator in General Court – Middlesex & Worcester District
James B. Eldridge, Candidate for Re-Election, Democrat
Dean J. Cavaretta, Republican
Representative in General Court – Eighth Middlesex District
Carolyn C. Dykema, Candidate for Re-Election, Democrat
Martin A. Lamb, Republican
Clerk Of Courts – Worcester County
Dennis P. Mcmanus, Candidate for Re-Election, Democrat
Register of Deeds – Worcester District
Anthony J. Vigliotti, Candidate for Re-Election