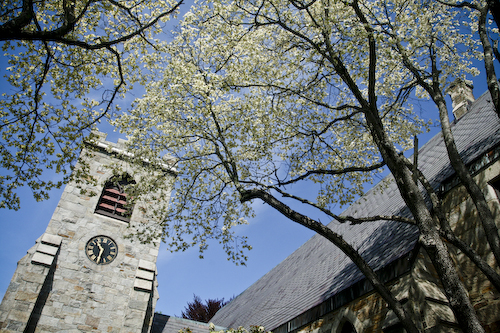 For 35 years, Reverend Harry Eugene Goll served as the spiritual leader of St. Mark's Church. On Saturday the parish will hold a memorial service for its longtime rector who passed away in February at the age of 97.
Also to be remembered at the service is Rev. Goll's wife Emily, who died in 2009.
Rev. Goll became rector of St. Mark's in 1950. He also taught at St. Mark's School from 1950 to 1955, and was chaplain to Fay School from 1950 through 1974.
A bit about Rev. Goll from his obituary:
Expert in biblical history and interpretation and gifted with wit, Rev. Goll's sermons were both instructive and entertaining. His enthusiasm for his work led him to use symbols to make religious holidays and traditions more meaningful to the children and adults of his congregation. He would tether a donkey on the church lawn on Palm Sunday, have children release homing pigeons outdoors after the Easter service, and he held a lamb in the sanctuary on Good Shepherd Sunday.

In 1967, Rev. Goll married Emily S. Storkerson, who predeceased him in 2009. He had been previously married to Ellen H. Goll (deceased) of Rockport, MA, with whom he had three children, Marcia Storkerson of Sweden, ME, Rebecca Thompson (David Johnson) of Sweden, ME, and Barbara Goll of Rockport, MA.

Beyond his career, Rev. Goll was an accomplished and creative woodworker, needlepoint designer, gardener, and seasoned world traveler. He was a snappy dresser recognized for his impressive bow tie collection. He will be missed and remembered for his love of life, warmth and mischievous sense of humor.
The service on Saturday begins at 10:00 am at St. Mark's Church.