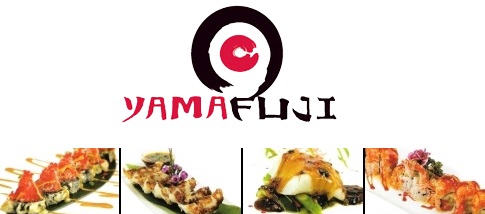 [The following information was provided by My Southborough sponsor Yama Fuji.]
Southborough's Yama Fuji is tempting customers with more than their Asian Fusion cooking and Sushi Bar. They are now offering hard to resist discounts and promotions.
Through February 8th, customers will receive free gift cards to the restaurant with each qualifying purchases:
Free $5 gift cards will be given for $50 or more spent
Free $10 gift cards will be given for $75 or more spent
and for spending $100 or more customers will receive a $20 gift card
Yama Fuji is also offering dine-in discounts almost every Sunday – Thursday as part of their Happy Hour.* From 3:30 – 6:30 pm, enjoy the following discounts. (Click on ad to enlarge)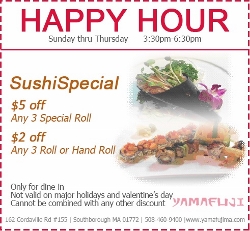 Sushi:
$5 off any 3 "Chef Special" rolls
$2 off any other 3 rolls or hand rolls
*Happy Hour deals don't apply on major holidays or Valentines Day. (Happy Hour does take place today, on Martin Luther King, Jr. Day.)
The restaurant / lounge is located at 162 Cordaville Road in Southborough. For more information or to look at their menu, visit their website.
Or visit them on Facebook, where you can follow them to learn about future offers.
Updated (1/19/15 4:15 pm): I briefly ran the story on Sunday, but pulled it after learning that Happy Hours with discounted liquor are illegal in MA. Now that the restaurant changed the deal to only discount food, I'm re-running the post.