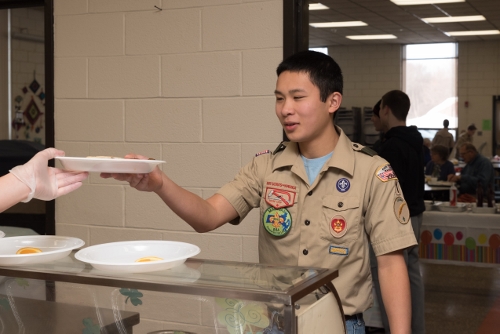 Southborough Boy Scout Troop 1's annual Pancake Breakfast fundraiser took place on Sunday, March 1.
According to a troop contact, Justine Bai it was the 46th annual breakfast. Though, the tradition didn't begin with the scouts:
as best I can tell from our records a Southborough Tradition started in 1970 by the Southborough Rotary Club and now hosted by Troop 1 Boy Scouts. The breakfast is always on the first Sunday of March between 8am and 1pm.
It's the troop's biggest annual fundraiser. The proceeds they raised will support activities like camping, hiking, and community service projects.
Andy Weigl and the troop were kind enough to share Weigl's photos from the event.* There were too many to post them all, but here's a good overview of scouts and parents hard at work. 
Click thumbnails below to enlarge.
*Weigl continues a passion for photography shared with his late son, Christopher, who died in an accident in 2012, while a graduate photojournalism student at BU. Both of Weigl's sons earned the rank of Eagle Scout with Troop 1.
Updated (3/4/15 8:55 am): Corrected a typo and edited footnote.