Carnival-style games, face painting, crafts, and the always-popular bake sale. You'll find it all at the Finn Fall Festival this month.
But the annual fundraiser relies on community support to make it happen. Organizers are looking for contributions and volunteers.
All proceeds benefit Finn SOS. Ways you can help:
Donate a product, service, gift card, or the like to the popular basket raffle
Volunteer to help out that evening (ages 12+ are welcome. This counts as community service for students.)
Sign up to donate goods for the Bake Sale
Buy tickets and join the fun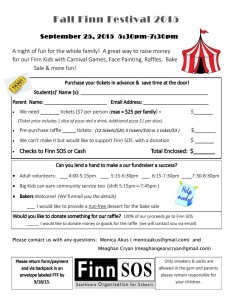 For more information, or to make a donation, please contact monicaakus@gmail.com.
And don't forget to mark your calendar for Friday, September 25th.
The fun starts at Finn School at 5:30 pm and runs until 7:30 pm. Tickets are $7 each (max $25 per family), and include a slice of pizza and a drink.
Finn students can pre-purchase tickets. (Click flyer to enlarge.)
But, if you miss that 9/15 deadline, tickets are also sold at the door. And your children don't need to be Finn students to attend.