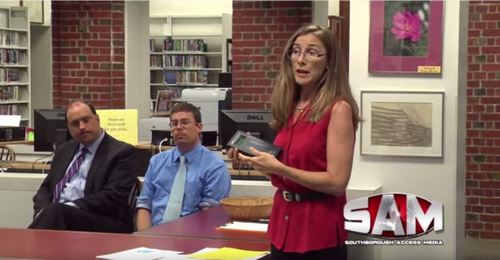 Some parents concerned about the impact of Wifi on children's health have been working to raise awareness in Southborough, through the media, and through state legislation.
The issue put Southborough in the headlines when Fay School was sued by parents of a child with diagnosed with Electromagnetic Hypersensitivity Syndrome. (Since then, reports indicate a settlement may have been reached.)
But Fay is hardly alone in using Wifi in the classrooms. It's become standard practice in schools.
While the schools follow federal safety guidelines, some claim those standards are outdated and our children are at risk of being harmed.
Cece Doucette of Ashland led an effort to implement "best practices" in Ashland public schools.* Now she is attempting to build a grass-roots effort to educate the Southborough community about "second hand radiation" through Wifi in schools and public places like libraries.
In late August, she addressed the public during the Q&A at the Legislative Forum held a the Southborough Library. (You can view her speech here, 1 hour 10 minutes into the video.)
Doucette claimed that thousands of scientific studies "are showing biological harm". She also stated that other countries have "way lower allowability on Wifi radiation to their citizens."
She informed the audience that she worked with Representative Karen Spilka, to get a bill introduced to state legislators asking them to look at the health impacts of electromagnetic fields. But she believes that it also needs to be worked on "from the grass-roots mode".
Doucette followed up by attending this month's Southborough Board of Health meeting with a town resident to talk about their concerns. Southborough Wicked Local covered that discussion:
Doucette, and a Southborough woman who didn't want her name publicized, presented to the board numerous possible impacts of wireless Internet and cellphone use. The two spoke of alleged effects on people of all ages, including links to cancer, autism and reproductive problems.

The discussion was designed as a launching point on how to get the word out, they said. . .
Doucette told the board that many people who claim there is no scientific evidence of Wi-Fi radiation are reporting what "they've learned from the industry."

"The evidence is there," she said. "A lot of what the industry has put out for research says there is no problem, but when you look at independent reports that have been done, about 70 percent say there is a big problem."

Doucette said there are some simple recommendations not to have devices on the body and turn them off when not used.
To read the full article, click here.
So what are the "best practices" that Doucette helped to implement in Ashland? According to a Metrowest Daily News article:
After Doucette made her request, the [Ashland] School Committee did its own research and decided to have the district post signs to raise awareness about best practices for mobile devices. The signs remind teachers to turn off wireless devices when not in use, turn Wi-Fi on only when it's needed and always place mobile devices on a solid surface.
For more of Doucette's arguments about second hand radiation, you can read an article on the issue she posted earlier this summer. (It includes her email, if you want to reach out for more information.)