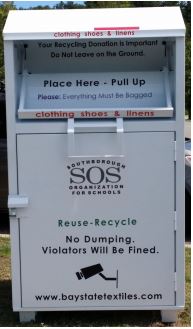 I'm excited by a new re-use and recycling program launched at the end of the last school year. (Somehow I missed the news, so maybe you did, too.)
Northborough and Southborough has set up collection bins at district schools for textile donations. Funds from the goods collected at our schools will go to SOS and APTO.*
It's an easy, guilt free way to rid your house of junk and the good stuff, too.
(By junk, I don't mean your old lamps or dishes. That's what the swap shop's for!)
It's limited to textiles but that covers a lot of ground.
As long as they are clean and dry, you can drop off items including clothing, used shoes, pocketbooks, accessories, blankets, linens and STUFFED ANIMALS (something that's impossible to donate elsewhere no matter how untouched!)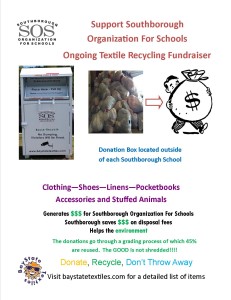 Baystate Textiles will sort through the items for what can be re-used and then recycle what they can from what's left. (No more having to feel guilty about throwing out worn out shoes!)
SOS gets paid by the pound. And there is a contest running for who collects the most pounds by December 15th. That could get them an extra $800 bonus.
So, start cleaning out your closets!
Click here for the full list of accepted donation items. Click the flyer for SOS fundraiser details.
*SOS is the Southborough Organization for Schools; APTO is the Algonquin Parent Teacher Organization.