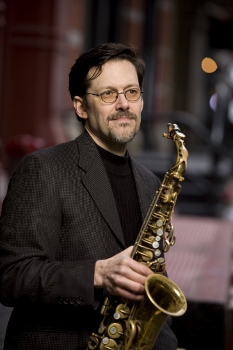 If you've been waiting for the return of Steeple Coffeehouse, your wait is almost over.
Popular returning performers Dave Pietro and his trio of friends will kickoff the late starting season this Saturday night:
Jazz Up Your Holiday Season with the Dave Pietro Quartet. . .

Dave and his jazz quartet will be playing some of your favorite Holiday Season songs.
The performance in Pilgrim Church's Fellowship Hall is at 7:30 pm. Doors open at 7:00 pm.
Tickets are $17 in advance ($14 for students/seniors through Brown Paper Tickets) or $20 at the door ($17 for students/seniors).

Pietro is a Southborough native. And the setting for his concert is fitting, as he apparently credits a church organ as a child as helping to fuel his interest in music. (Though, that church was St. Anne's.)
You can learn more about his music career and roots through Community Advocate's profile.
Proceeds from the refreshment sales are donated to local and regional charity. As is their tradition, organizers are also requesting people to bring donations for the Southborough Food Pantry.
For more details, visit the Steeple Coffeehouse website (steeplecoffeehouse.org).
Updated (12/9/15 7:43 am): About half the references to Dave Pietro above had his name wrong. Sorry about that!