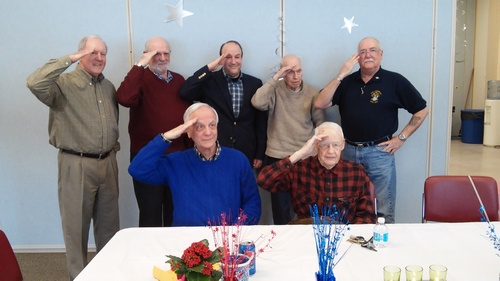 Southborough Access Media will soon be airing an original documentary, "Southborough Veterans: Local Life Lessons".
The focus is on not just veterans, but those who are still serving in the US military. SAM producer Terry Newman captured the stories of nine men from town.*
The men spoke of their service in WWII, Korea, Vietnam, Iraq, Afghanistan and the Congo. Newman explains:
The stories you will hear on the documentary is about their leadership skills they learned and observations they made while in the military and more importantly what they did with those skills after they left the service. The contributions that they made to the Southborough community and still continue to make are invaluable. This is not about battles and conflicts, however some felt the need to share, as it may have been part of what shaped them.
The project was partially funded through a grant from the Southborough Community Fund. Interviews were completed several months ago. But Newman has been busy at work editing.
Since the piece is 30 minutes, I had to edit a great deal to tell the story. However, as their stories are so important, I was able to give them their full interviews on a dvd, to preserve their history for their families.
She expects to begin airing the documentary in two weeks.  (Scroll down for the schedule.**)
The producer's goal is for cross generational lessons can be passed on:
I like to think of it as simply connecting the dots. I hope that people bump into these veterans and just say hello. They are humble and not looking for anything extra.
Along with her news, Newman shared pictures from a luncheon held for the service members back in March by the Southborough Friends of the Council on Aging.
*Here are the nine residents who shared their stories:
Arthur Butler, Jr., Army – Bronze Star, Purple Heart
Paul Cimino, Army, West Point graduate (Selectman)
Mel Kizner, Army, Ranger
Dan Kolenda, Army, JAG corps, Bronze Star (Selectman)
Ray Minnucci, Army, Quartermaster
Christopher Robbins, Army – Retired
Earle Watkins, Army, Bronze Star & Purple Heart recipient
Steve Whynot, Navy – Retired, Navy Achievement Medal recipient
John Wilson, Army – Retired, Bronze Star (former Town Moderator)
[Note: Newman says me she did ask women to participate, but wasn't able to recruit any.]
**The documentary will be broadcast on SAM's Public Channel (Charter-191 and Verizon-38) from January 11 – February 29, by the repeating schedule:
Monday, Wednesday & Friday – 8:00 pm
Tuesday and Thursday – 8:00 am
Saturday – 6:00 pm
Sunday – 10:00 am