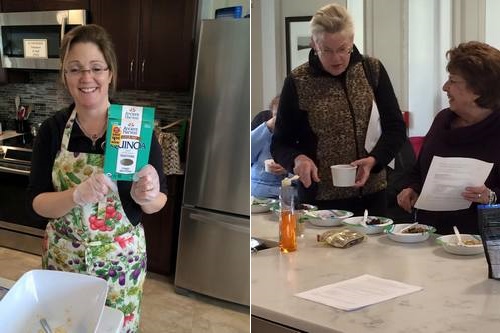 The Southborough Senior Center is making good use of their new kitchen. They've lined up five more free cooking demos for March and April.
Space is limited for each, so sign up quickly at the desk or by calling 508-229‐4453.
Resident seniors can take advantage of the sessions to learn new recipes, get nutrition or safety tips, and sample some great food.
Two of the demos feature special guests:
Lasagna (Wednesday, March 9 at 12:30 pm) Join the culinary experts from New Horizons Retirement and Assisted Living in cooking us a tasty lasagna with homemade sauce paired with a salad.
Lasagna Pin Wheels (Friday, April 1st at 12:00 pm) Scott Navaroli, Southborough Firefighter, will demonstrate how to make Pin Wheel Lasagna.  He will also be serving salad and garlic bread to accompany the dish.  Lieutenant Chris Dano will join Scott in sharing some valuable kitchen safety tips.
The other three sessions are part of the center's "Nutrition for Life" series, featuring Registered Dietician Karen White:
Ways to Bone Up with Calcium (Wednesday , March 30 at 11:30 am) Come and see easy recipes that will bump your intake of calcium and are tasty. Make your yogurt taste like apple pie and learn to make a smoothie.
Super Foods (Wednesday, April 13 at 11:30 am) Learn what a Super Food is and get ideas on ways to get them into your diet. Roast some Super Food Veggies, turn an avocado into guacamole, and make a lighter Broccoli and Cheese soup.
Make Dishes with Ancient Grains (Wednesday, April 27 at 11:30 am) Revisit quinoa and explore Bulger Wheat. Guaranteed to be easy to make and delicious.