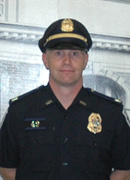 This Tuesday night, the Board of Selectmen are scheduled to vote in a 15% salary increase for the Southborough Police Chief, possibly without public discussion.
"Approve amendment to contract of Police Chief" is listed as a contract amendment under the "Consent Agenda" portion of the meeting. That section of the meeting is reserved for items that are planned to be ratified as a group without discussion. Individual items are only discussed if a selectman requests it.
The posted packet for the meeting includes the contract amendment, replacing Chief Kenneth Paulhus' salary with $138,000, up from $120,000.
Last year, the chief received a 4.3% increase that brought him up to the salary of predecessor, Chief Jane Moran. Selectmen John Rooney and Dan Kolenda both dissented against last year's 4.3% increase. But neither publicly shared their reasons or what they believed the salary change should be.
[Note: Any related discussions about the chief's performance and disagreements over salary last year were part of a Closed Executive Session that have never been posted. That's despite an apparently unanimous vote by the board to release them.*]
Just weeks after last year's vote, the Personnel Board informed selectmen that Southborough was an uncompetitive employer. A study revealed that many Town employees were underpaid compared to counterparts in other towns.
Since then, the Personnel Board and selectmen have publicly worried about retaining and incentivizing talent. Both boards agreed that replacing valued employees is costly. 
In April, Town Meeting voters approved the Personnel Board's plan to reclassify jobs and raise several salaries based on the study. And selectmen have continued to talk about the need for moving away from staged increases to merit-based increases.
Asked to comment on the raise, Town Administrator Mark Purple responded that the chief "had a good year in his second year with the Town." He deferred any other comments to selectmen at tomorrow night's meeting "as the original discussion was part of Executive Session."
Chief Paulhus was hired just over two years ago at a salary of $115,000.
*After complaints about transparency last year, the board agreed to release Executive Session minutes once the reasons for confidentiality had passed. On January 20, 2015, the Board held an Executive Session to negotiate with non-union contract personnel. 
On July 14, 2015, the BOS voted to approve and release Minutes from six Executive Sessions, including January 20 & 22. Four are posted to the town website. But, as of this post, the January closed session minutes still aren't posted.
This morning, Purple responded to my query about the missing minutes, promising to look into it.
Updated (3/16/16 10:05 am): Correction – I had posted (for the second time) that Chief Jane Moran had been making $120,000 when she left. That was based on an apparently erroneous report in Metrowest Daily News in 2014. According to the minutes from January 20, 2015's Executive Session, released at some point yesterday afternoon, she was making $125,000.