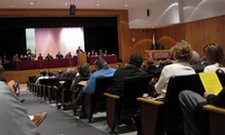 Here is a selection of the committee and board meetings for the week along with my selected highlights from the agendas.
No surprise, almost all of the business posted for this week so far is related to tonight's (and possibly tomorrow night's) Annual Town Meeting.
All of these meetings are open to the public, so you're welcome to drop in.
Be aware that changes to the meeting schedule are known to happen throughout the week. For a complete list of meetings, visit the town website.
Monday, April 11, 2016
Tuesday, April 12, 2016 
Potentially 2nd night of Annual Town Meeting, 7:30 pm @ Trottier Middle School (Town Warrant): If additional nights are required to finish Monday night's Annual Town Meeting business, it is current practice to adjourn the meeting at 11 pm to the next evening.
Wednesday, April 13, 2016