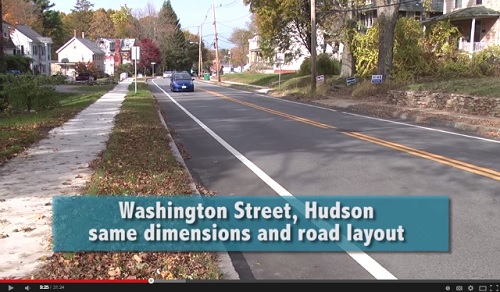 Tonight, Southborough voters told the Town they weren't willing to proceed with easements for the Main Street project.
The writing was on the wall when large contingent from the audience applauded John Butler's impassioned speech opposing the project.
2/3 approval was required to authorize the Town to negotiate for or take land easements. Opponents of the Main St project forecast two years ago that this hurdle would derail it.
With an article specifically addressing easements, that's what the Main Street Design Working Group's presentation focused on. But what most commenters focused on was the desirability (or lack of) of the project as a whole.
Many were concerned about the impact to property owners across from the Common. But more residents spoke of concern about what they labeled as a federal highway running through the center of town.
Some opponents (and proponents) lauded the hard work of the group to find concessions and compromises. But the bottom line embraced by many was a belief that the project would strip Southborough of its historic, small town character. 
One resident asked for an example of another town with a road under the federal guidelines through downtown. Selectman Brian Shea referred to a similarly designed stretch of road in Hudson. (Prompting snickers from the audience.)
Resident Howard Rose, an outspoken abutter to the Park Central project, sought an amendment to the original article. He asked to remove language allowing "taking by eminent domain." He said he was opposed to the precedent for town and believed in individuals' property rights.
John Butler argued that the vote should be a clean up or down. He said he hated the Main Street Redesign project and wanted to kill it. But he didn't want to hand selectmen a mess by having them negotiate easements without the power of eminent domain.
Butler got his clean "down". Voters flatly rejected the amendment, then by majority rejected the original article.
Soon after the article failed, Desiree Aselbekian asked to reconsider the motion.
The candidate for Town Moderator pointed out that as she voted on the prevailing side, she had the right to reconsider. She informed the audience that reconsideration is only allowed once during a Town Meeting.
She asked voters to help lock in a No vote and stop reconsideration later in the evening or a subsequent night. (Thus allowing voters opposed to the easements to leave, without jeopardizing the vote.)
Updated (4/13/16 10:47 am): I accidentally called Howard Rose a Main St abutter. (Freudian slip with Main St on the brain.) Rose is a Park Central abutter. (He also isn't Howard "Rosen" as my typo mistakenly called him. I'm blaming a long night and trying to work in the middle of an ongoing meeting!)