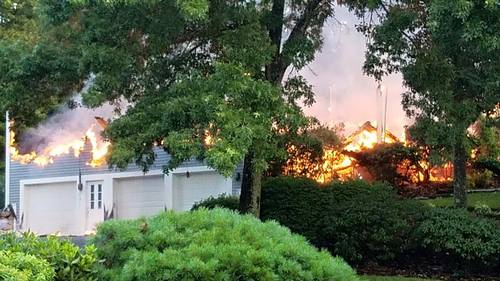 This morning, the Southborough Fire Department responded to a fire. The house was already engulfed in flames when the crew arrived. The 2 story home at 1 Michael Circle was destroyed. Lightening is blamed as the likely culprit.
Fortunately, no one was harmed. Homeowners were away and our firefighters, with help from neighboring crews, were able to keep the fire from spreading to other homes.
Twitter started sharing news that SFD was responding to a fire at 5:22 am this morning. (Initial tweets misidentified the address as 15 Darlene Drive.) Grim pictures tweeted at 5:31 am revealed that the house was destroyed.
This afternoon, the SFD posted pictures and more details: 
Google maps images below show what the house looked like before the fire. (Click to enlarge.)