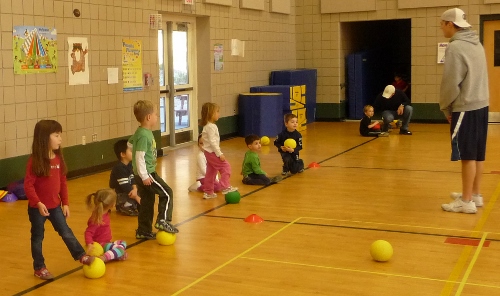 Southborough Recreation Department is offering sports classes again this spring for children too young to join leagues. Instructors introduce tots to sport basics while keeping play fun and supportive their age.
The classes are all geared for kids aged 3 – 6 (as long as they are potty trained.)
Kids can choose Mini Sports for an assortment of games, or take intros to basketball and soccer. The early spring session takes place March 4 – April 8 at Woodward School Gym.
Here are more details: 
PK Mini Ballers (Intro to basketball): 8:45 – 9:45 am
Each week, Game Time Training will introduce the rules and principles of basketball, such as: understanding triple threat, knowing the spots on the court and learning the rules of dribbling, passing and shooting. The GTT staff makes learning the game fun with interactive drills, music and ENERGY!
PK Soccer: 10:00 – 11:00 am
A friendly and fun introduction to dribbling, stopping and controlling the ball. Our non-competitive curricula introduces players to soccer by teaching the skills with fun games. Players will also be taught how to interact on a team and how to be a good sport.
PK Mini Sports: 11:00 am – 12:00 pm
This program is a combination of warm-up games and sports such as soccer, kickball, wacky ball and basketball. It will ease children into learning the basics of all these great games as well as teaching them the importance of team work! Each class F.A.S.T. Athletics will have new and exciting games planned for the students.
Each session is for 6 classes at a cost of $85 per child. All of the classes run on Saturday mornings.  To learn more or register, click here.