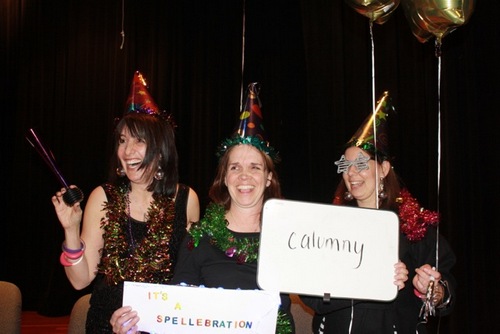 Have you heard the buzz? The Spelling Bee is around the corner.
Southborough Education Foundation's fundraiser will be held on Friday, March 3rd.
According to organizers, an overflow of attendees had to be turned away last year and past years. So if you don't want to be shooed off, book your tickets in advance.
The family friendly fundraiser isn't a competition between individual spellers. It's a school community event made up of competing teams "dressed to spell".
Teams feature Southborough school teachers, staff, students, local businesses and community groups vying for bragging rights as the town's best spellers.
The event is scheduled for Friday, March 3 at 7:00 pm at Trottier Middle School. But get there early. The doors open at 6:00 pm for the raffle and silent auction.
Speaking of. . . organizers are still recruiting donations for the raffle and auction: 
athletic equipment, sports memorabilia or event tickets, services to offer such as car detailing, massage therapy, pet sitting or personal catering, or perhaps you would be willing to donate a weekend at your ski condo or a week at your summer vacation home, please email the SEF board at southboroughedfoundation@gmail.com by February 25, 2017. SEF will provide receipts to donors for tax purposes.
Every year, SEF awards grants to fund new resources and/or initiatives at the schools. Last year, they raised over $13,000 through the Bee.
To buy your advance tickets, click here.
Updated (2/15/17 7:40): I accidentally had Friday as March 4th. It is the 3rd – which is the date of the Spelling Bee.