Town meetings have kept me so busy this winter, I forgot all about Town political races.
If you are considering running for office in Southborough, the process has already begun. Nomination papers are available now.
The election is two months from yesterday. And to run for office, you need to return the forms with nomination by 43 registered voters by March 21.
More than a dozen seats are up for grabs this year: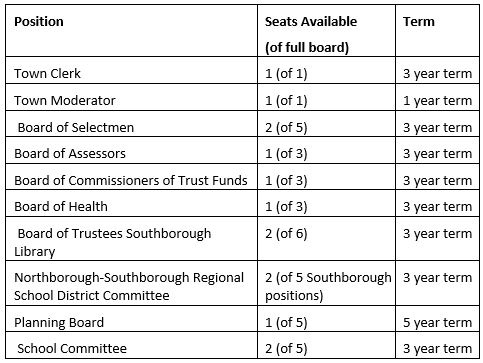 For those of you wondering – here is whose terms are expiring on major Town boards: 
Board of Selectmen – Paul Cimino and Dan Kolenda
Planning Board – Chair Don Morris
Regional School Committee – Paul Butka and David Rueger
Southborough School Committee – Paul Desmond and Kathleen Harragan
(I don't know yet which are running for re-election. Stay tuned for that.)
If you are considering a run, here are the deadlines you need to know:
Of course, elected positions aren't the only game in town. There are committees that currently have vacancies.
For a look at committee vacancies and the application, click here.
Updated (3/14/17 10:35 am): I fixed the link for Town Committee vacancies.