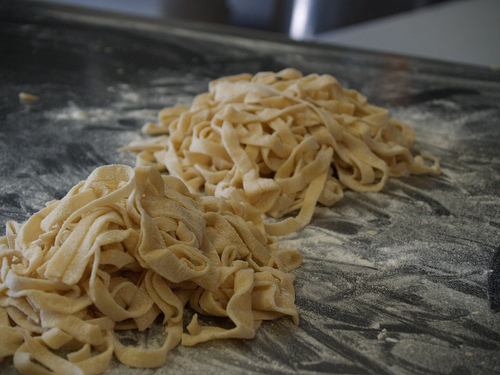 The community is invited to a special fundraiser for Algonquin's Serenity Garden. Participants will learn how to make their own pasta.
Make Your Own Pasta Night  will be held at the high school tomorrow night (Wednesday, March 29th) from 6:00 – 8:00 pm.
ARHS Culinary and Nutrition Arts teacher Zbysia Giegucz will lead the lesson in making spaghetti and fettucine. Dough will be kneaded by hand then pressed through pasta machines. Participants will bring the pasta home to share with their families.
The class costs $20 per person. Proceeds will benefit Algonquin's Serenity Garden to help purchase a compost bin. The garden is used to teach Algonquin students about health and nutritional awareness using a "farm to table" concept.
For more information and to register, contact Giegucz at zgiegucz@nsboro.k12.ma.us.