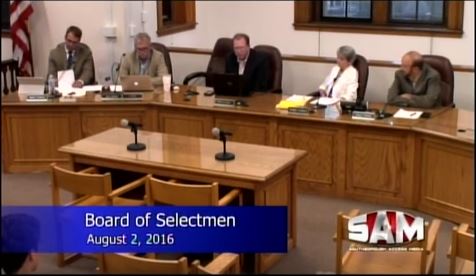 [Editor's Note: Because of my clear failure to do what I intended when I wrote this story, I have written a new story that clearly lays out my opinion: Opinion: Rooney's resignation is based on his ethical stance (not a result of the complaint).]
Selectman John Rooney has submitted his notice to the Town. The resignation letter is on the heels of an ethics violation complaint filed against him and fellow board member Bonnie Phaneuf. But Rooney isn't stepping down until the spring of 2018. And he is citing very different reasons.
In fact, the selectman cites his resignation as based on his unyielding principals. And he states that the decision was made and communicated prior to the filed complaint.*
The resignation submitted on March 28, 2017 is effective May 8, 2018. That will end his term one year early. Rooney's stated intent is to free himself of apparent personal interest when he publicly opposes an effort to pass a recall law this spring.
At Annual Town Meeting next month, voters will weigh in on Citizen Petition Articles** related to the removal of appointed officials and recall of elected officials. In Rooney's letter he explains his vehement opposition to the articles.
The early ending of his term is to show that he is opposing the articles in the interest of what he believes is best for the Town, not protecting the length of his own term. He plans to concentrate his "full efforts at garnering resistance to Articles 6 & 7".
In his resignation letter, Rooney wrote:
We should all be very troubled about the potential to allow the recall of elected officials or those appointed to boards and committees simply because of disagreement with a decision, vis., a political decision, as opposed to a recall based upon misconduct.
One big issue that has been contentious between residents and Town officials is the handling of the Park Central development. And that is at the root of the complaint filed with the State Ethics Commission against Rooney and Phaneuf six days before Rooney submitted his letter.
The complaint accuses the two Board of Selectmen members of acting improperly in the handling of public requests to remove remove Leo Bartolini from the Zoning Board of Appeals. 
Selectmen responded to a petition last summer by holding a closed executive session with Bartolini on August 2nd. In that meeting, members discussed the situation, including Bartolini's handling of Park Central. They agreed to his suggestion that he step down as chair but continue to act as a full voting member (and one of only three on that case). Then-chair Rooney announced the news to the public later that night.
Attorney Gary S. Brackett, representing petitioning residents, pointed out that Rooney and Phaneuf have recused themselves from the public hearings on Bartolini's removal that took place in the fall. The conflicts of interest they cite already existed prior to the August meeting they participated in.
Brackett also claims that the members acted improperly by remaining present for the subsequent public hearings and discussions. According to the attorney, as recused members, they were required to leave the room.
Rooney's announcement makes no direct mention of the complaint or Park Central in his letter. He instead focuses on his planned fight against the Citizen Petition articles.
How does his resignation in more than a year reduce his appearance of a conflict in opposing recall articles?
If the articles do pass, they would still need to proceed to the Mass General Court (legislature) for approval. While its possible that a quick ratification by the state house could leave him vulnerable, the window is significantly smaller. The article doesn't allow for recalls of anyone whose position is set to end within 180 days of a recall petition being filed.
Of course stepping down immediately would be a clearer removal of conflict on the issue. But it also may make it appear a result of the complaint. Rooney explains his reasons for delay as:
for a number of reasons, the most important of which is that there are a number of pending issues, ongoing projects, and unfinished business that I have worked tirelessly on over the last number of years that I feel compelled to see to conclusion.
Next May will mark the end of his eight years of service as a Southborough Selectman. He wrote:
This has been a hard decision, one that I have agonized over for too long, and is neither made summarily nor lightly.
Rooney has served as selectmen since he won 62% of the vote in 2010. He ran unopposed for re-election in 2013 and again when he ran alongside Bonnie Phaneuf last spring.
This year, several candidates are running for two seats on the Board of Selectmen. Last year's lack of opposition may indicate wide support for Rooney and Phaneuf's actions on the board vs their colleagues. Or it may be that the tides have changed since last spring.
Rooney seems to indicate he believes the latter. He wrote that after many interactions with residents he has realized:
that the priorities I envision for the Town are, at times, incongruous with many Town residents. . .

The residents need to elect and deserve someone who echoes their character, demeanor, ideals and temperament, and if decisions are to be made based upon "coercion" and politics, that someone is certainly not me. I will never under any circumstances, compromise my values and integrity. . .

I genuinely hope that the fury, anger, and divisiveness that dominates our meetings and debate will come to an end with the election of like-minded, thoughtful and representatives to boards and committees.
For Rooney's full letter, click here. For the ethics complaint, click here.
Because the letter addresses Articles 6 & 7, I sought out the most recent versions that Article petitioners plan to present at Town Meeting. Sam Stivers, one of the co-sponsors, stated that they plan to present modified versions on the floor and ask voters to approve amending the motions. He explained to me:
These versions show the additions (underlined) and deletions (strikeout) from the STM warrant language. I've continued to solicit input from a variety of sources (including the Advisory Committee this past Monday evening and from three individual Selectmen over the past several months) and I've made some updates accordingly.
Stivers quotes the Lowell Sun as reporting on 9/12/15:
The recall process, an option that more than half the communities in the commonwealth already have…
He claims that the language he selected is generally consistent with other towns, though he says some bylaws are more restrictive and some are less.
Click here for Article 6 on recalling elected officials (though it is likely to have more changes between now and ATM). Click here for Article 7 on removing appointed officials (which Stivers believes is close to the final form he will bring to ATM).
*Updated (3/30/17 11:00 am): Though his notice letter was dated 6 days after the complaint was filed, Selectman Rooney commented that his decision to resign was made prior to the filing.
Updated (3/30/17 12:21 pm): Rooney further clarified that he had told others by phone prior to the filing.
Updated (3/31/17 9:58 am): Based on feedback I received, I have added a new post to the blog laying out my clear opinion that Rooney did not resign because of the complaint. In it I explain that I do see the two items as related. But that relationship is more about the environment in which Rooney chose to resign. Although he has clarified the decision came first – the complaint comes out of the same environment that he refers to in his letter.
I'm not taking down this post because it contains facts I consider important. I stand by those facts (as updated). But I regret the implication they caused. That is what I am trying to rectify through the further update and the new story.
**Articles 6 & 7 were part of the Warrant for the Special Town Meeting in March. With the night running past 11:00 pm, voters chose to continue that meeting to be held "within" the Annual Town Meeting. ATM is scheduled to be opened on April 25, 2017. Both of those articles, along with Article 8 to authorize elected boards to hire attorneys in special circumstances, are sponsored by Stivers, Freddie Gillespie, Jack Barron, and Louise Barron. All three articles were inspired by issues related to Park Central.