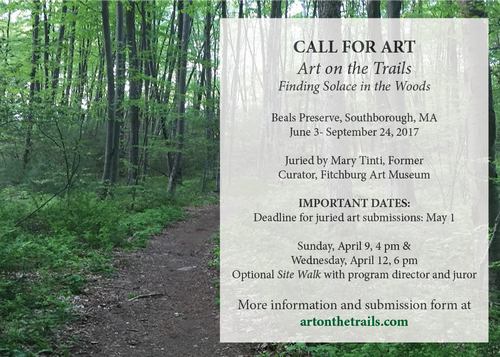 Southborough Open Land Foundation is putting the call out to artists (and wannabees).
A juried exhibition will be on display this summer at the Beals Preserve. The free application process has begun with submissions due by May 1st.
To help applicants prepare, SOLF is offering a tour of the trail guided by the "juror" and the project director. The walk takes place tomorrow evening, Wednesday, April 12th at 6:00 pm.*
(Applicants are also welcome to explore the area on their own.)
This summer's exhibit is focused on the theme "Finding Solace in the Woods":
In response to our constantly-connected culture and ever-challenging political climate, there are few places to find quiet moments of respite and meditation away from the stress of daily life . We are seeking work that exemplifies the theme – Finding Solace in the Woods – and what this means to the artist.
The works will be installed at Beals from June 3 – September 24. It's a "Leave No Trace" exhibit, which means:
from installation to dismantling, nature must be left intact and all materials brought to the site must be removed at the end of the show.
If you're wondering about my "wannabees" comment at the start of the post – that's not sarcastic. There will be an additional public installation opportunity open to people of all talent levels:
Members of the general public of all ages and talents are invited to contribute art installations at Beals Preserve beginning on June 8th, after the juried exhibition opening reception. Those interested in participating are encouraged to attend one of our site walk events or visit Beals Preserve on your own. Beals Preserve Map.
It's not the first time that SOLF has hosted Art on the Trails. They also hosted an art exhibit in 2013, timed for Beals Preserve's 25th anniversary celebration. I managed to pull up two pictures from that year's show – including one by this year's program director, Catherine Weber.
For more details on this year's opportunities, check out the dedicated website for Art on the Trails 2017.
*Blame me for the short notice on the second walk (and missing the first chance)! SOLF sent me the info a week ago. But while I saw the application deadline, I didn't notice the guided tour dates until this afternoon! Sorry.
Updated (4/12/17 6:32 am): I fixed typo with wrong last name for Catherine Weber.