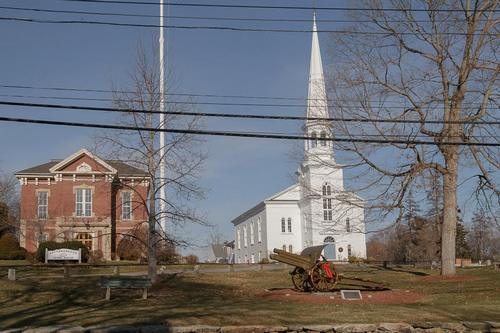 On Tuesday, one of the articles up for vote at Annual Town Meeting would be used to help secure the Main Street historic area as a National Historic District. Under Article 34, almost $20K in funds would pay for a Preservation Planner to handle the required documentation.
The article is sponsored by the Historical Commission. They asked me to share their pitch to voters:
The Historical Commission needs you to VOTE YES on Warrant Article # 34
TOWN MEETING on April 25 & 26, 2017

"To see if the Town will vote to raise and appropriate or transfer from available funds the sum of $19,750, for the Southborough Historical Commission to hire a historic preservation planner to write a nomination to the National Register of Historic Places."

The proposed National Register Historic District process can proceed to the next stage if the Historical Commission hires a preservation consultant to write a National Register nomination, which will be listed in the National Register of Historic Places, the official list of the American cultural resources worthy of preservation. The National Register District is a purely honorary designation and does not restrict owners from altering their properties in any way, including demolition.

Procedure

The preservation consultant will present the written nomination at a public meeting in Southborough. At the same meeting, Massachusetts Historical Commission will give their presentation on the benefits of a Historic District. Property owners have one vote regardless of how many properties they own.

Owners who object can send Massachusetts Historical Commission notarized letters of objection, which they collect and forward on to the National Park Service in Washington. Should more than 50% of the owners object, then the nomination is not sent forward. This has happened very rarely. Conversely, MHC does not require letters of support to be submitted to them or the NPS.

Note: The Historic District would not impact the Main St. Reconstruction Project. They are separate issues.

For more information go to the Historical Commission website.