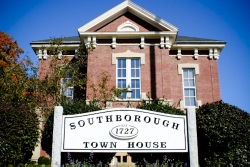 Here is a selection of the committee and board meetings for the week along with my selected highlights from the agendas. All these meetings are open to the public, so you're welcome to stop on by.
Interestingly, it appears two properties on/off of Chestnut Hill Road are on agendas for early this week. The Planning Board will hold a hearing tonight on the Chestnut Meadow subdivision (12 lots on 15.74 acres).
Tomorrow night, selectmen will address a Chapter 6 1A Right-of-First-Refusal request for 2 Chestnut Hill Road. That property is listed as 41.5 acres.
Be aware that changes to the meeting schedule are known to happen throughout the week. For an updated list of meetings, visit the town website.
Monday, May 1, 2017
Southborough Scholarship Advisory Committee, 5:30 pm @ Mary Finn School, Conference Room 60 Richards Rd (agenda) Agenda Highlights: Interviews and final selection of applicants
Southborough Trails Committee, 6:30 pm @ Recreation Office, South Union Building 21 Highland St (agenda)
Public Works Planning Board, 7:00 pm @ Hearing Room, Town House, 17 Common St (agenda) Agenda Highlights: Discuss Water Storage Tank – review report and make final recommendation to selectmen
Planning Board, 7:00 pm @ Hearing Room, Town House, 17 Common St (agenda, Document package, Photometric Plan) Agenda Highlights: Hearing's on Cain's Crossing 11 unit 55+ housing development at Southville, Chestnut Meadow 12 lot subdivision, and Ken's Foods – Broadcast live and replayed by SAM*
Tuesday, May 2, 2017
Southborough Housing Opportunity Partnership Committee, 8:30 AM @ Hearing Room, Town House, 17 Common St (agenda) Agenda Highlights: Discussions on 10A Fitzgerald Lane resale and Fayville Halls
Board of Selectmen, 6:30 pm @ Town House, Hearing Room 17 Common St (agenda) Agenda Highlights: Updates from Senator Eldridge and Rep Dykema; Right of first refusal request for 2 Chestnut Hill Rd – Broadcast live and replayed by SAM*
Youth Commission, 7:00 pm @ Fayville Village Hall, Conference Room 42 Central St (agenda)
Southborough Stewardship Committee, 7:00 pm @ Cordaville Hall, Country Kitchen, 9 Cordaville Rd (agenda)
Advisory Committee, 7:30 pm @ Cordaville Hall, Rooms A and B, 9 Cordaville Rd (agenda) Agenda Highlights: Discussion & Vote on Rec request to increase Revolving Fund limit and access
Wednesday, May 3, 2017
Southborough Scholarship Advisory Committee, 5:30 pm @ Mary Finn School, Conference Room, 60 Richards Rd (agenda)
Thursday, May 4, 2017
Economic Development Committee, 7:45 AM @ Hearing Room, Town House, 17 Common St (agenda)
*Southborough Access Media will broadcast the meeting(s) live on Verizon-37 and Charter-192. Click here to see this week's schedule with rebroadcast times. (Videos are also usually made available through their YouTube channel by the following morning.)