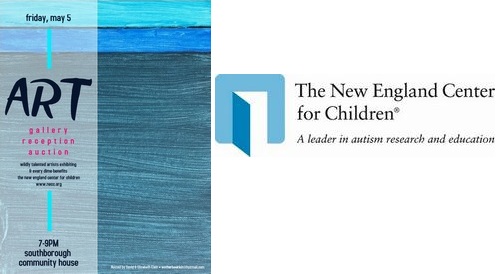 This Friday evening, an art gallery reception will be held in downtown Southborough. On display will be art from local & regional artists, plus some work by NECC students.
The last one is fitting, since funds raised that night will go to The New England Center for Children.
Admission is free (including served refreshments). Funds will be raised through a silent auction-style sale of the artwork.
The showing will include a reception and auction. The event is May 5th from 7:00 – 9:00 pm at Southborough Community House.
Artists whose work will be on display includes:
Chelsea Bradway (Southborough)
Nina Buxembaum (Brooklyn, NY)
Thomas H. Durand (Jamaica Plain)
Kasey Fitzpatrick (Carlisle)
Brinker Higgins (Fairfield, CT)
Kassandra Hostage (Southborough)
Carolyn Hughes (Harwichport)
Taylor Murphy (Northborough)
Danny O (Hampton, NH)
….many more! Including work by NECC students.