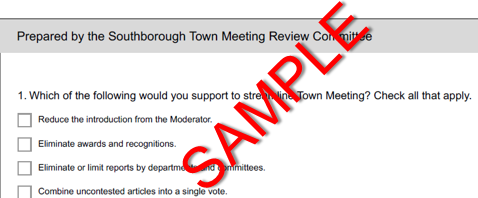 The Town Meeting Review Committee is seeking voter feedback by the end of this month.
Over the past year, Southborough residents participated in not only a 3-day Annual Town Meeting, but two Special Town Meetings. That gives participants a lot of experience to draw on when submitting feedback on potential improvements.
It should also have given those of you who didn't attend any of the 5 nights a chance to think about why not – and what would have made a difference.
The committee is researching changes to increase voter participation. To help them make recommendations on future improvements, take their quick survey. (And I promise, it is a quick one.)
Questions cover items like ways to streamline the meeting, quorum, timing, and remote participation. And, of course, there's a field that allows you to freely share your thoughts.
Last May, when Stephen Morreale was elected Moderator, he promised to research improvements. In June, he worked jointly with the Board of Selectmen to form a Town Meeting Review Committee (TMRC) to review the process, participation, workflow and schedule. They have been working on that since.
This month, a new Moderator was elected – Paul Cimino. But the committee's mission remains. (After all, as a former selectmen, Cimino voted in support of the committee and its work.)
Before the committee reports out its findings, it is seeking more input. Earlier this spring, members explained:
The committee was charged with exploring 'best practices' used in other New England communities, voting procedures, warrant review and community education related to Town government.

To that end, TMRC members have developed a short questionnaire. Your input is sought. Our goal is to make citizen participation in town government work as best as possible – so your comments are essential.
To access the survey, click here. To learn more about the TMRC, click here.