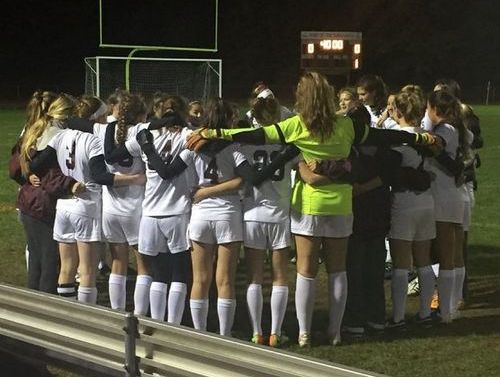 So far, so good for Algonquin athletes in their post-season tournaments. Only one team that made playoffs is out of the tournaments. And they didn't do so shabby.
Boys Golf made it to the state tournament this week. (That's six players, not three as I mistakenly posted last time.) The team lost out to BC High and St. John's by just a few swings.
The Boys tied for third with Barnstable. As an individual, ARHS' Jack Tobin came in 3rd place with a 70.
Four more Algonquin teams are still competing in their Central Division 1 tournaments.
Boys Soccer overtook upperseed Doherty 3-2 in the Quarter Final on Monday. Today, they'll hope to vanquish lower seed Saint John's in the Semi-Finals. That's scheduled for 7:00 pm at Doyle Field in Leominster.
The winner will move on to the Finals this Friday at Nashoba.
Yesterday, Girls Soccer shut out lower seed North Middlesex 4-0 in the Quarter Finals. Now they have to face upper seed Nashoba at Doyle Field. The Semi-Finals are scheduled for Thursday night at 5:00 pm. The winner moves on to this Saturday's Finals.
Field Hockey bested lower seed Shrewsbury 2-1 in yesterday's Semi-Finals. Tomorrow, they take on top seed Nashoba for the Finals. That takes place in Grafton at 7:00 pm on Thursday.
T-Hawks Football didn't make the playoffs. But the team was happy to beat Tantasqua 28-14 in their non-playoff game last week. This Friday, they'll play Fitchburg on their turf.
The Cross Country teams are heading to their finals at the Gardner Municipal Golf Course this Saturday. The Boys will run at 11:40 am and Girls at 1:00 pm.
Have a photo of your favorite team in action to share? Email mysouthborough@gmail.com.
Updated (11/8/17 11:22 am): I mistakenly identified the XC tournament this weekend as a state tournament. It's the District finals. All-State finals take place the following week.