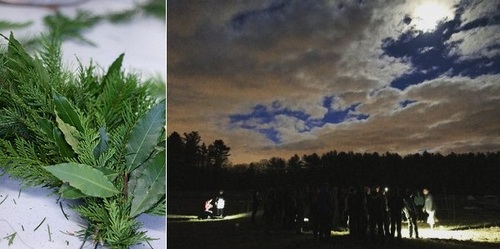 The Trustees of Reservations have announced another slew of events to enjoy Chestnut Hill Farm's "Winter Wonderland". My favorite is a free open invitation to follow the trails on a "Reindeer Quest". But you may have another.
Offerings also include a Photography lesson, holiday decor workshop, a candlelit solstice hike and a full moon "brew" hike.
Here is their latest listing:
Woodland Holiday Decor
Sat, Dec 02 | 11AM-1PM
Registration is Requested
Member: $32; Nonmember: $40
Bring your creativity and hiking shoes for this hands-on workshop making centerpieces, ornaments, and other holiday decor. We'll grab some clippers and take to the trails to gather all-natural materials and then head back to our classroom space where experts will instruct you on how to arrange your creations for holiday hosting perfection. All materials are provided and warm drinks are included. Preregistration is required and minimums must be met in order to run the workshop.

Barnyard Brew Hike
Thursday, Dec 07 | 5:30-7PM
Registration is requested
Member: $12; Nonmember: $20
Celebrate the full moon each month with a night hike guided by lunar light, topped off with local brews! We'll be hiking the farm's most beautiful trails and wrapping up at the farmstead barn for brews, bites, and a blazing fire. Each month will feature samples of local beers paired with perfect post-hike snacks and a social session with your fellow trekkers. 21+ and registration required.
Snapshot Series: Digital Photography Workshop
Sunday, Dec 10 | 2-3:30PM
Registration is requested
Member: $32; Nonmember: $40
The last months of the year are prime for photo opportunities. From fall foliage to family gatherings, tis the season for snapping lots of pics which means now is the time to perfect your skills! Join us on the farm for a workshop series designed to help you hone your inner Ansel Adams. Each session will take participants into our bucolic landscape to explore techniques for capturing various subject matter on different types of equipment. We'll explore fields, trails, objects, and people to arm you with the tools to make your hiking and holiday season look its best!
Preregistration is required, participants must bring their own cameras and other equipment, and minimums must be met in order to run the workshop.
Farmstead Solstice Stroll
Thu, Dec 21 | 6-8PM
Registration is Requested
Member: $9; Nonmember: $15 (kids under 7 are FREE)
Celebrating the winter solstice goes back 5,000 years and has deep agricultural roots. Join us as we light up the night with a Solstice stroll and celebration at the farm. Participants will meet in the parking lot for a guided candlelit walk through the woods that will include presented passages from the story "The Shortest Day" by Wendy Pfeffer. After hiking the trails throughout our pastures we'll gather back in the orchard to warm up by a fire and enjoy hot chocolate and s'mores as we welcome the new season under the stars. Pre-registration is requested to help us plan.

Chestnut Hill's Reindeer Quest
Daily in December | Sunrise to Sunset
FREE
Grab your snow shoes, hiking boots, or cross country skis and get the family outside between Christmas and New Years to seek out our elusive herd of wooden reindeer sculptures found throughout the farm trails. See how many you can find and leave a bell around each one's neck. This is a self-guided program and bells can be found at the trailhead parking lot kiosk.