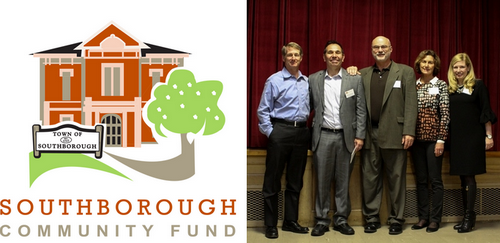 The Southborough Community Fund is awarding $53,590 worth of grants to organizations benefiting the Southborough community.
The grants include support for a special after school program at Algonquin. That announcement was a reminder that I never shared news about two grants the high school was awarded by the Northborough Education Foundation this fall. (Scroll down for that.)
But, first up, is SCF's news.
The fund recently held its 4th annual award celebration. At the event, they announced grants supporting initiatives that address human services, arts and culture, environment, and community building needs for our town:
Karen Gadbois, member of the community board of the Southborough Community Fund, said "This is a well-deserved, diverse group of grantees and we are proud to support them this year. It's an honor to help them pursue their missions for the benefit of the Southborough community."

Art on the Trails Program Director Catherine Weber said, "Southborough Open Land Foundation is thrilled to receive a Southborough Community Fund grant for Art On the Trails 2018. This generous funding will broaden the impact of the program to wider audiences, so that all can enjoy art and poetry in harmony with nature at Elaine and Philip Beals Preserve in the coming Spring, Summer and Fall of 2018."
The SOLF award was just one of a dozen grants made to Southborough non-profits and government agencies. Below is the full list of recipients and the causes funding will support:
Assabet Valley Mastersingers: To support the 'Choral Gems for Romantic Organ' concert at Pilgrim Church in March 2018 ($2,500)
Friends of the Southborough Council on Aging: To provide meals twice a month for seniors and their primary caregiver(s) ($6,240)
Friends of the Southborough Youth Commission: recipient of three SCF grants to support Southborough Youth and Family Services (SYFS) programs

To support the SYFS Camp Scholarship Program ($10,000)
To support an emergency fund for SYFS to provide basic goods and/or services to Southborough residents who have demonstrated needs ($10,000)
To support SYFS' multi-generational mentoring program called Project Friend ($1,000)

Pilgrim Church – Messiah Community Chorus: To support the Messiah Community Chorus' presentation of Handel's Messiah, an annual tradition in Southborough ($1,000)
Southborough Historical Society: To support SHS historical collection – stabilization of current collection nd development of educational exhibits and materials for the community ($10,000)
Southborough Library: To purchase laptops for the pilot of a Scratch Coding Club that will be open to students in grades 3-5 ($3,000)
Southborough Open Land Foundation: To support the 2018 Art on the Trails program to be held at the Elaine and Philip Beals Preserve ($4,100)
Southborough Stewardship Committee: To provide trailhead signage in Southborough Town Forest to increase visibility and mitigate hazards by removing safety concerns ($750)
Thrive Support & Advocacy: To support the Extended Day program at Algonquin Regional High School for young adults ages 18-25 that addresses a gap in services for those living with autism spectrum disorder or other intellectual and developmental challenges ($5,000)
SCF was established in 2014 to promote "a spirit of philanthropic giving to help enhance the quality of life for all Southborough residents." To learn more, click here.
In September, the Northborough Education Foundation announced its awards for over $36,000 in funds to 18 grant recipients. Most of the awards supported Northborough K-8 programs. But it included two that support technology initiatives at Algonquin Regional High School:
Teaching AP Computer Science Principles with Mobile App Development
This grant will provide Android tablets for a course that:
features a multidisciplinary approach to teaching the underlying principles of computation. The course will introduce students to the creative aspects of programming, and will give students the opportunity to use technology to address real-world problems and build innovative solutions."
Cracking the Curriculum: Utilizing Breakout EDU Gaming Platform in the Social Studies Classroom
This grant will provide an "an immersive learning games platform.":
Essentially, this is an escape room experience designed for the classroom. Students will use teamwork and critical thinking to solve a series of Social Studies specific challenging "puzzles" within the teacher-designed game. . . In addition to applying content knowledge, students will also need to employ critical thinking, creativity, and collaboration and communication skills.
For more details on those NEF grants and others, click here.