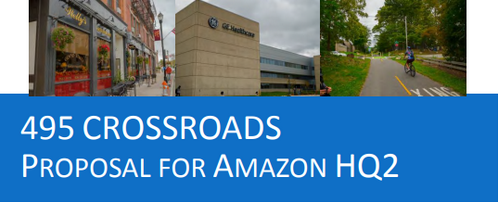 As you may have heard, Amazon has narrowed its list of potential HQ2 sites. With 238 applicants, it's not a big surprise that the regional bid Southborough participated in didn't make the cut. It also wasn't that surprising that Boston did.
Southborough Wicked Local ran a piece covering the news from a local perspective:
Amazon's second headquarters will not be coming to MetroWest, but local officials still hope the region will financially benefit if Boston is picked for HQ2. . .

[Marlborough] Mayor Arthur Vigeant remains optimistic Amazon could still locate smaller manufacturing facilities in Marlborough or MetroWest if Boston is chosen to house the online giant's second headquarters, dubbed HQ2.

"We said from the beginning we want to get some of the residual business," said Vigeant.

In an email to the task force, Amazon said it plans to keep the proposal on hand for the future.

Paul Matthews, executive director of the 495/MetroWest Partnership, also believes MetroWest could benefit from Boston earning the bid through potential secondary investments made by Amazon. The company coming to Boston would be advantageous for the region's vast number of skilled workers.
For more, read the full article.
The regional proposal had pitched sites for Southborough based offices at 250 Turnpike Road, 4 Park Central Drive, and DELL/EMC, Crystal Pond Road. For more on that, click here.