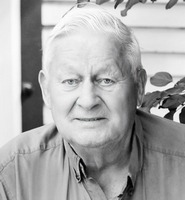 Frederick Kurzontkowski, 84, of Southborough, passed away peacefully on Saturday, January 27, 2018. He was the beloved husband of the late Geraldine (Lockwood) Kurzontkowski.
Born to the late Joseph and Sophia ( Bialka) Kurzontkowski and grew up in Holliston in a large farming family. Fred was a US Army Veteran and proudly served his country in the Korean War. He was the recipient of both the National Defense Service Medal and the Good Conduct Medal during his time of service. Fred was a loving husband, father, grandfather, great grandfather, uncle, and friend. His life goal was to make everyone smile and laugh, which he succeeded at daily.
Fred was a self employed carpenter. His love of carpentry and the outdoors had him leading a very active life as long as he was able. Family was of the utmost importance to him, always visiting on Sunday afternoons, attending his grandchildren's sports activities, and welcoming a face-time call from all of his grandchildren scattered across the U.S. In addition to his family, he also had a great love for music and dancing, and was a great sports enthusiast.
Fred is survived by his daughters, Linda Zawadzki of Westborough; Diane Kurzontkowski and her husband, Michael Jensen of Bainbridge Island, WA; a sister, Sophie Mark of Holliston; 9 grandchildren, 1 great-grandchild and one on the way; Lance Zawadzki, his wife Shelly and their son, Tate of Texas; Jessica Brown and her husband Russell Brown of North Carolina; Troy Zawadzki and his wife Meghan of Tennessee; Grant Zawadzki of Georgia; Julia and Gracie Zawadzki both of Westborough; Taylor Rae, Colby and Ginger Jensen, all of Bainbridge Island, WA; and many nieces and nephews, all of whom he loved and adored. He was predeceased by his brothers, John, Alex, Andy, Stanley, Lud, Joseph, Edward and Charlie Kurzontkowski.
Visiting hours will be held from 4 to 7pm on Friday, February 2 at the Morris Funeral Home, 40 Main Street, Southborough.
A funeral Mass will be held on Saturday, February 3 at 11 AM at St. Matthew Church, 26 Highland St, Southborough.
Burial will follow in St Mary's Cemetery in Holliston.
In lieu of flowers you may wish to consider a donation to be made in his memory to Alzheimer's Association, 309 Westerly Oaks Road, Waltham, MA 02452; alz.org, or VNA Hospice Care Fund development office, 199 Rosewood Drive, Danvers, MA 01923, vnacare.org
To leave words of condolence to the family, please visit Morrisfuneralparlor.com