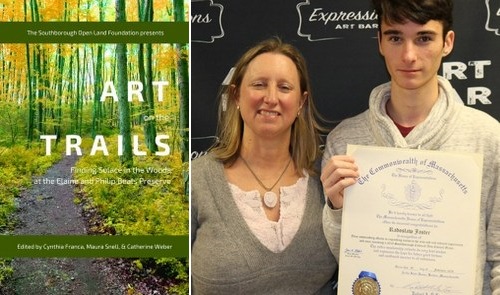 A local filmmaker will be debuting a short at the Southborough Library next week. The film's focus is last summer's Art on the Trails exhibit Finding Solace in the Woods.
Algonquin senior Radek Jaster received a grant from Southborough Cultural Council to fund the work.* The completed film is scheduled to be screened at the Library on Thursday, March 29th at 7:00 pm.
If you aren't familiar with Art on the Trails, it was a juried exhibit installed along trails in Southborough Open Land Foundation's Beals Preserve.
The public was invited to explore the trails and enjoy the art.
The community was also welcomed to actively participate. The public was invited to add their own exhibits (within guidelines). And poetry inspired by the artwork was collected for a chapbook last summer (which is available for purchase.)
On the exhibit's website Program Director Catherine Weber explained the origin for the film:
After producing the 4-minute film about the closing event in September, I got the idea that we had a special story to tell, and the skilled artist who could help us tell that story. Radek is finding time between finishing his senior year of high school, applying to colleges, and making films for Assumption College to work on this project. . .

We look forward to sharing this wonderful story with the public and will share the details of the screening soon. Stay tuned!
Following the film, a discussion panel will feature Jaster, Weber, and participating artists. They will talk about how the Beals Preserve inspired the artwork and poetry.
Weber is already working on another round of Art on the Trails for this summer. You can read about this year's call for artists here. (And stay tuned for news about a new element this spring – a Fairy and Gnome Village on the preserve!)
*SCAC's $550 grant was supplemented with another $100 by Northborough's Cultural Council. Northborough will hold its own screening of the film in April.