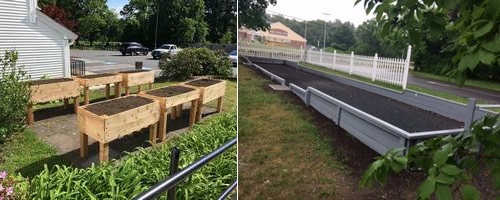 The Southborough Senior Center is touting the great work of volunteers in their yard this spring. They're also looking to recruit a few more.
Work done to spruce up and enhance the grounds includes two Troop 92 Boy Scouts' Eagle Scout projects to enhance recreation at the center.

Garden Beds
Thanks to Riley Garand, the center now boasts 6 raised garden beds in the back yard. As for growing and maintaining gardens, the center is asking anyone interested in helping to leave a message for volunteer Joyce Macknauskas.
Bocce Courts

In the front yard, the bocce court is being repaired and refurbished. That project is overseen by Shea Garand. (Yes, he's Riley's twin.) The center offers bocce weekly on Fridays at 11:00 am, weather permitting. If you would like more information about playing, please leave a message for volunteer Vinnie Acampora.
Landscaping
It's not just scouts digging in to help this Spring. The Center shared:
Also, around the flag pole and the yard you might have noticed new plants and landscaping improvements being headed up by volunteer Carol Yozzo. If you would like to help out with the outdoor beatification please leave a message for Carol.
The center asked me to share their thanks to Riley, Shea, the scouts, scout leaders, volunteers Howard Anderson, Carol, Vinnie, Joyce and all who have helped with these projects. To leave a message for the Senior Center's volunteers, stop by the desk or call 508-229-4453.