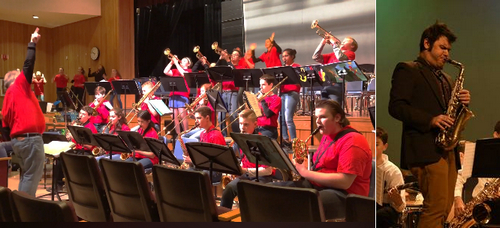 Trottier's Big Band is always busy this time of year. But it added an extra "concert" to its roster this spring. The award winning band is now inviting the community to enjoy two special events.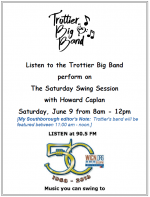 You won't have to leave home to hear the first one. But you don't have to stay home either. You can enjoy their music wherever you can get reception.
Last Friday, the band performed for, and was recorded by, WICN radio. This Saturday, June 9th between 11:00 am – noon, Band Leader Jamie Clark will join WICN host Howard Caplan during his show "The Saturday Swing Session" on 90.5 FM.* He'll talk to Caplan about the band and help introduce the recordings.
So, tune in. Or, if radio is too archaic for you, you can stream the show via WICN.org.
Then follow up by showing up at the school on Thursday night, June 14th to see them perform live a their annual Evening of Jazz.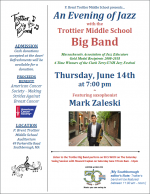 At the live concert, they will be accompanied by special guest, professional saxophonist Mark Zaleski. Zaleski performed with the high school and middle school Jazz bands at ARHS Jazz night earlier this spring. He'll work with the students next Thursday for that evening's special performance.
As in past years, the concert is free, but voluntary donations to a cause will be collected at the door. Funds will also be raised through refreshment sales. This year, the band opted to support the American Cancer Society.
If you can't wait until this weekend to enjoy the band's jazz skills, you don't have to. Trottier shared a fun video from this week's in-school concert. It's the Big Band rocking "Uptown Funk with a twist", with help from back up dancers. Enjoy!

*The flyers referenced 8:00 am – 12:00 pm. I was surprised that the band had stamina for a 4 hour concert. So I followed up. That's the window for the radio show. But Clark recently got confirmation that he will be on at/after 11:00 am.