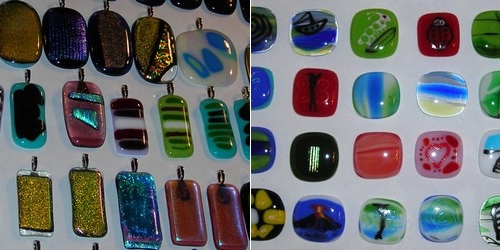 Next week, the Southborough Library is bringing back a special craft program: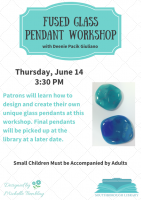 Patrons will get a chance to design and create their own pendants out of glass. (The pendants will be fired and fused offsite for pickup at a later date.)
Come play with glass in this easy, fun class. Create a fused glass pendant with pre-cut Dichroic glass (which means "two colors," pronounced dye-cro-ick), as well as powder and frit made from crushed glass. Add words by writing with markers that permanently fuse onto glass. As easy as decorating a homemade pizza!

Choose a pendant backing in class. Tools will be provided; however, you are welcome to bring your own toolbox. Pendants and magnets are ready in about eight days. Leave your e-mail and attendees will be notified when they are ready. Small children must be accompanied by adults.
The workshop takes place on Thursday, June 14 from 3:30 – 5:30 pm on the main floor of the Library. No registration is required