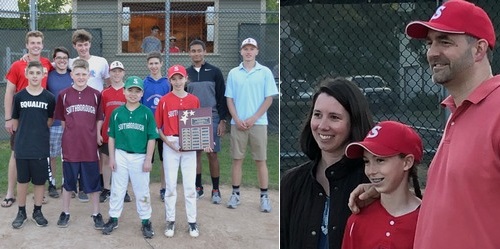 While the national media has been talking a lot about sportsmanship in youth baseball this week – Southborough's been celebrating it for years.
On Monday night, Little League presented a Southborough player with the 7th annual Eric Green Sportsmanship Award. The league shared highlights and photos from the event.
This year, the honor went to Ellie Westphal. Her assistant Coach Dave Klein said of Westphal:
The grace and determination Ellie exhibits is second to none. She has had different pressures than most players and not only handled it, but thrived. She is a truly wonderful ball player and an even finer young lady.
The award established in 2012 in the memory of Eric Green honors players for Outstanding Attitude, Sportsmanship, and Team Spirit. Westphal's name will be added to the placque which hangs in Trottier Middle School.
Each year, each Southborough Little League Majors team nominates one player for the honor. This year's other nominees were: Brannock Zanghi, Luke Cronin, and Justice Huang.
Westphal's nomination by her coach Jim Blackburn paints a picture of the young player's grace, determination, kindness, athleticism, maturity, and humility. From his nomination paper:
In my twenty years of coaching experience, I have never enjoyed working with a player more than I have with Ellie. From T-Ball to Majors, she has played with a grace and determination second to none: in four out of five years, she has done so as the only girl on her team. In my opinion, it took a great deal of courage to deal with the various challenges this situation presents and she managed these with poise, fitting in nicely with boys who could be silly and temperamental at times.

Ellie Westphal has also thrived in this league. She has easily earned the respect of all of her teammates and coaches for her athletic ability as well as her firmly positive attitude, both on and off the field. She always has a smile, a kind word of encouragement or a pat on the back for someone who is struggling. I see her always aware and supportive of other players and their feelings.

Ellie also manages the stress and anxiety of pitching in a way I have never seen before in a child so young. At this age, it is very easy for pitchers to become overwhelmed emotionally on the mound, especially when they are throwing poorly. Ellie has a way of resetting herself when this happens that again, is rare for an athlete her age. She has always been an inspiring role model for other pitchers, as an athlete who can persevere under severe pressure. . .

Despite the enormous success Ellie has had these past five years, she remains incredibly humble and sincere.
In the audience at last night's ceremony were a number of Eric Green's friends, along with four previous award recipients.
Here are more contributed photo highlights (click for captions):
One detail, from photo captions highlights a reason Westphal might have a positive attitude about youth sports in her blood. The player's father (and an assistant coach) is Kirk Westphal author of
No Ordinary Game: Miraculous Moments in Backyards and Sandlots. (You can read about that here.)
The Monday presentation followed a championship game, pitched start to finish by Westphal. Her team, Southborough Dental won 17-6 over the Cumberland Farms team. They'll play each other again tonight for the championship at 5:30 pm on the Eric Green Memorial Field.