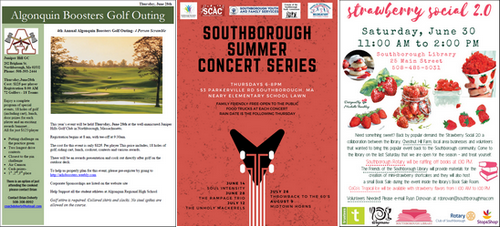 Here are highlights of what's happening around town this week.
[Note: The highlights don't include ongoing weekly programs. For those listings and more, check the Event Calendar.]
Monday, June 25, 2018
Last day of public school: Early dismissal for the last day of Northborough and Southborough public schools.
Tuesday, June 26, 2018
Magic at the Library (11:00 am – 11:00 am) @ Southborough Library, main level: Rock the Library – Debbie and Tom O'Carroll will rock the library with magic and music! For details, see dedicated post.
Wednesday, June 27, 2018
Exciting Women's Club (10:30 am – 12:00 pm): A social group for women with semi-monthly meetings at the Senior Center. New members always welcome. This session, the group will gather for lunch at the Cheesecake Factory located at the Natick Mall. Meet at the Senior Center at 10:30am or at the Restaurant at 11:00am.
Nutrition Demo – Salads/Sides (Senior Center Program) (11:30 am) @ Southborough Senior Center: Run by Dietician Karen White. Capacity is limited so participants were asked to sign up early. To register, call 508-229-4453. The suggested donation for the program is $3 per person. For details, see dedicated post.
Pajama Storytime (7:00 pm) @ Southborough Library: Bring a blanket and listen to stories outside on the lawn – weather permitting. (In the case of inclement weather, story time will be held in the Children's Room).
Thursday, June 28, 2018
4th Annual Algonquin Boosters Golf Tournament (8:00 am – 5:00 pm) @ Juniper Hill Golf Course, 202 Brigham Street, Northborough: Fundraiser to support ARHS Athletics and help improve sports facilities. BBQ dinner only option is also available. For details, see dedicated post.
Legos at the Library (10:30 am – 5:00 pm) @ Southborough Public Library: Children are welcome to come build with Legos, and display their creations in the Children's Room. Legos will be provided, but all materials need to remain at the library. Parents or caregivers must stay with children during this event.
Southborough Summer Concert Series (6:00 – 8:00 pm) @ Neary School grounds: Free family friendly concerts at Neary School field by the tennis courts. Bring a blanket or lawn chairs. This week's headliner: The Rampage Trio (backup Rain Date is July 5th – to check status call 508-485-0710 and press 8) For more details, see post on this summer's series. (And look for a future post about this week's event.)
Audio Book Club (7:00 – 8:00 pm) @ Southborough Library: Join us for the inaugural edition of the Audio Book Club, a monthly series focusing on Science Fiction / Fantasy books. This new group is aimed at adult readers who enjoy both reading – and listening – to books. For details, see dedicated post.
Saturday, June 30, 2018
Strawberry Social 2.0 (11:00 am – 2:00 pm) @ Southborough Library: A celebration on the last Saturday the Library is opened this summer. Enjoy mini-strawberry shortcakes or tropical Ice in strawberry-themed flavors, and a book raffle. For more details, see dedicated post.
Sunday, July 1, 2018
Summer Evening Strolls at Beals Preserve (6:30 pm) @ Park and meet in cul de sac at the end of Red Gate Lane off Flagg Rd: The public is invited to join Southborough Open Land Foundation for a monthly, informal evening stroll along the trails of the beautiful Beals Preserve. They will be looking at the flora and fauna as well as noting a bit of history of this former pasture. Bring cameras and binoculars, but, please, no dogs. For more details, see dedicated post.